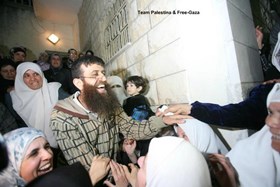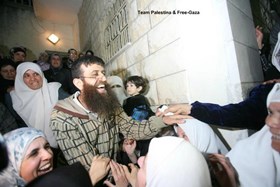 The Palestinian hunger striker Khader Adnan has reached critical condition as he enters his 35th day of hunger strike declared more than a month ago in protest against his renewed administrative detention according to which he is held in Israeli jails without charge or trial.
Muhja Quds Foundation said Monday that Israeli authorities transferred Adnan from Ramle prison hospital to Asaph Harofe Hospital against his will.
Despite his very difficult health situation, Adnan's legs and hands are still tied to the bed in total disregard to his deteriorating condition.
He has earlier stopped taking vitamins, and continued to reject any medical tests.
Khader Adnan, one of many former prisoners re-arrested for unclear reasons, staged one of the longest hunger strikes in history in 2011 that lasted for 66 days running.
Adnan, a father of six children, was detained on July 8, 2014 and sentenced to administrative detention for the 10th time in his life.