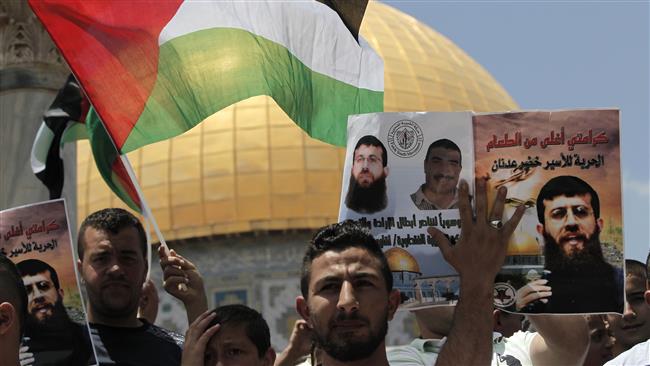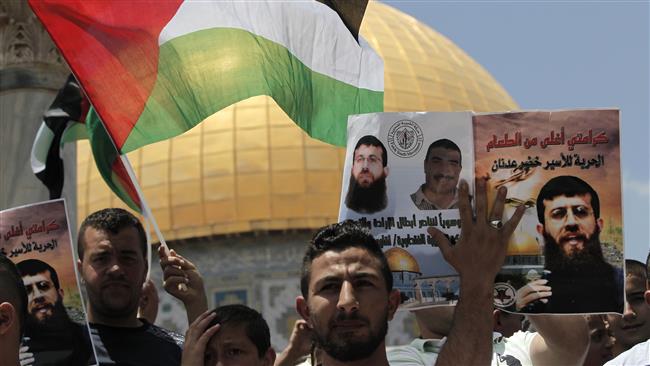 A Palestinian prisoner on hunger strike in protest against his administrative detention by the Israeli regime is in critical condition, a Palestinian official says.
According to Issa Qarage, the head of the Prisoner's Affairs Committee of the Palestinian Authority, Khader Adnan, who entered his 35th day of hunger strike on Saturday, has lost a lot of weight while his heart rate is low, Palestinian Ma'an news agency reported.
This is the 10th time that he has been imprisoned under administrative detention. Adnan was released from Israeli custody after staging one of the longest hunger strikes in history in 2012, but he was rearrested in July 2014.
The father of six said in an open letter released in May that his hunger strike is aimed at preventing the Tel Aviv regime from ruining the achievement of those Palestinian inmates who managed to secure their freedom by going on hunger strikes in the past, only to be rearrested by Israeli forces again.
Qaraqe, meanwhile, held Israel responsible for Adnan's deteriorating health and demanded an end to the regime's use of administrative detention.
Adnan was detained last year as part of an Israeli arrest campaign across the occupied West Bank. He is one of many former prisoners that the Israeli regime has rearrested for unclear reasons.
In 2012, Adnan participated in a 66-day hunger strike against his detention without trial or charge. He was freed in April of that year in a deal that also ended the hunger strike of 2,000 other Palestinian prisoners who wanted an end to their administrative detention.
The Palestinian Prisoner's Center for Studies says administrative detention orders in the first three months of 2015 have witnessed a sharp increase in comparison with the same period in 2014.
Administrative detention is a sort of imprisonment without trial or charge that allows the Tel Aviv regime to incarcerate Palestinians for up to six months. The detention order can be renewed for indefinite periods of time.