Palestine
Palestinian killed after stabbing IOF soldier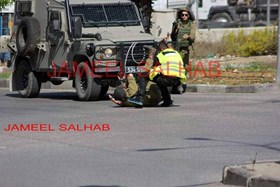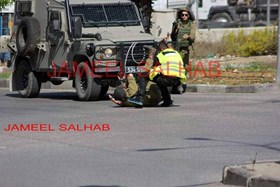 A Palestinian young man was shot and killed at the entrance of al-Khalil city on Friday afternoon after stabbing an Israeli soldier in the area.
The PIC reporter said that a Palestinian young man was killed after being shot by Israeli soldiers during a demonstration in defense of al-Aqsa Mosque.
During the demonstration, a Palestinian young man wearing a yellow vest marked 'PRESS' approached the Israeli soldiers and stabbed one of them before being immediately shot and killed, the PIC reporter said.
The Israeli soldier was transferred to hospital suffering from moderate wounds in his hand and neck.
A Palestinian news crew from Al-Quds TV captured the incident while reporting live in the area, with footage showing Israeli forces surrounding a Palestinian man lying injured on the ground and appearing to open fire.
Israeli forces then opened fire multiple times towards the demonstrators and assaulted Palestinian journalists in the area attempting to cover the incident, threatening that they would open fire at them if they did not leave the area.
Immediately after the incident, violent clashes broke out int the area.