Human Rights
Palestine
Palestinian little baby Balqees … the youngest captive (11-month-old baby) in the world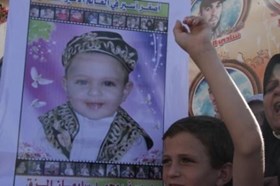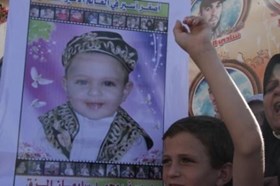 Balqees, an 11-month-old baby, is held in the Israeli prisons along with all her family members: her father, mother and baby brother.
Balqees's mother, Nihal Ghawadra, 29, didn't expect that her regular visit to her detained husband Muammar Ghawadra in Eshel prison in Beer Sheva will lead to her imprisonment along with her two babies: Balqees and her two years old brother Bara'a.
Wednesday (26-11-2014) was supposed to be a happy day for captive Muammar, from Beer Al-Basha village in Jenin province, his wife and his two babies as they were allowed to see each other even though behind bars. However, it turned into a real tragedy as the inhuman zionist regime forces held the wife and her two babies during the visit charging her with trying to smuggle a mobile phone to her husband.
Feelings of fear
Fear started to infiltrate the family's hearts; as Muammar's mother learned from her daughter-in-law that the Israelis separated her from her babies, urging whoever can help to intervene to release the captives.
Fuad al-Khafsh, the director of Ahrar center for prisoners' studies and human rights, confirmed that holding the wife and babies of the captive is a flagrant violation of the family's rights.
He called on all local and international human rights organizations and the Palestinian Authority to intervene to urgently release the babies and their mother.
Captive Muammar Ghawadra was released in Wafa Al-Ahrar deal in 2011 between the Palestinian resistance and the IOA. He was serving a life imprisonment along with 20 more years, but he was released in the deal after serving 8 years, and he was re-arrested with many others few months ago without any accusation or charge.
Al-Khafsh pointed out that 63 of the prisoners who were released in the deal are still held in the Israeli prisons. He added that Israel is using them as hostages and pressure cards against the Palestinian resistance in any future deal.