Middle East
Palestine
Palestinian man shot by zionist forces during Gaza protest dies of wounds
A young Palestinian man has succumbed to his injuries a day after he was shot by Israeli troops during anti-occupation protests along border between the blockaded Gaza Strip and Israeli-occupied territories.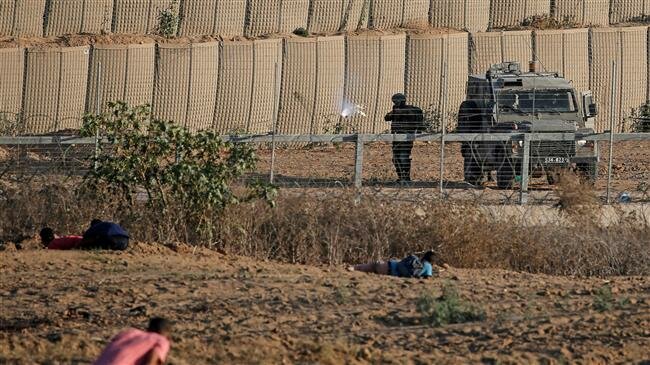 Bader Adin Abu Mousa, 25, lost his life at a hospital in the southern Gaza Strip, according to the Ministry of Health in Gaza.
The Palestinian man was "hit by a bullet to the head (in Friday's clashes) and died this morning," ministry spokesman Ashraf al-Qudra said in a statement on Saturday.
Abu Mousa was shot while he was taking part in a protest east of Khan Yunis on Friday as some 6,000 Palestinians deoutmonstrated in several locations along the border fence.
Seventy-five people, including a medic and a journalist, were wounded by Israeli fire during the protests, 42 of them by live ammunition, according to the ministry.
Over 75 Gazans injured by Israeli forcesMore than 75 Palestinians are injured by Israeli forces during protests near the fence between Gaza Strip and the occupied territories.
The protest was part of weekly rallies known as the "Great March of Return" in the besieged sliver. The rallies have been ongoing against Israel's occupation of the Palestinian territories since March last year.
At least 305 Palestinians have been killed by Israeli forces ever since the anti-occupation protest rallies began in the Gaza Strip on March 30, 2018. Over 18,000 Palestinians have also sustained injuries.
The Gaza clashes reached their peak on May 14 last year, on the eve of the 70th anniversary of Nakba Day (Day of Catastrophe), which coincided with the US embassy relocation from Tel Aviv to occupied East Jerusalem al-Quds.
Gaza has been under Israeli siege since June 2007, which has caused a decline in living standards.
Israel has also launched three major wars against the enclave since 2008, killing thousands of Gazans each time and shattering the impoverished territory's already poor infrastructure.