Human Rights
Middle East
Palestine
Palestinian ministry urges UN Security Council to act against 'israeli' settler violence
The Palestinian Ministry of Foreign Affairs and Expatriates has called upon the UN Security Council to assume its responsibilities and stop zionist settler violence, as extremist Israeli settlers continue their acts of vandalism and violence, known as price tag attacks, against Palestinians and their properties.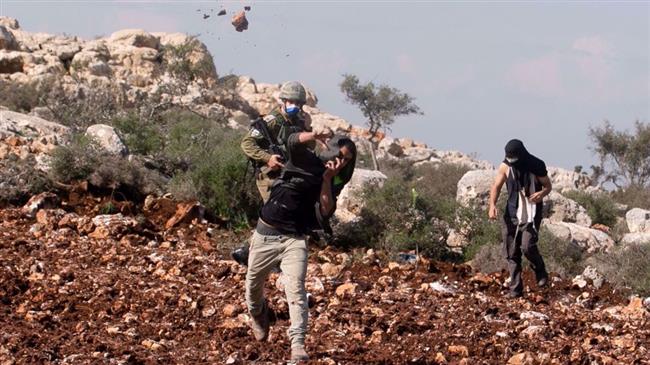 The ministry, in a statement released on Friday, announced that acts of violence committed by Israeli settlers recorded a sharp increase last week, and they are not just aimed at terrorizing defenseless Palestinians in the occupied West Bank, but also seek to advance the Tel Aviv regime's expansionism at the expense of Palestinian land expropriation.
The statement noted that Israeli attacks on Palestinian public and private properties have mostly taken place south, east and west of the northern West Bank city of Nablus.
The Israeli settlers and organizations supporting them are pressing ahead with a greater settlement bloc in the mentioned area, and such bids prevent any possibility for the creation of a viable and geographically contiguous Palestinian state, the ministry pointed out.
The statement noted that settler attacks fall within the framework of Israel's objective to effectively annex all sections of Area C, which represents 60 percent of the West Bank and is under the regime's full control.
The Palestinian Foreign Ministry then held the Tel Aviv regime and the outgoing administration of US President Donald Trump responsible for the spike in the Israeli settler violence, which it said would prevent any chance for the so-called two-state solution to the Israeli-Palestinian conflict.
Late on Thursday, a group of Israeli settlers attacked Palestinian vehicles near the village of al-Lubban al-Sharqiya, located 20 kilometers (12 miles) south of Nablus. They also tried to attack Palestinian homes in the area.
Israeli settlers had uprooted dozens of olive trees from a Palestinian grove east of Yatta city, located approximately 8 kilometers south of al-Khalil (Hebron), earlier in the day.
Local official Rateb al-Jabour said settlers from the illegal Israeli settlement of Ma'on stole some 35 olive trees.
More than 600,000 Israelis live in over 230 illegal settlements built since the 1967 Israeli occupation of the Palestinian territories of the West Bank and East Jerusalem al-Quds.
The UN Security Council has condemned Israel's settlement activities in the occupied territories in several resolutions.