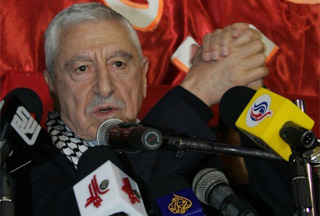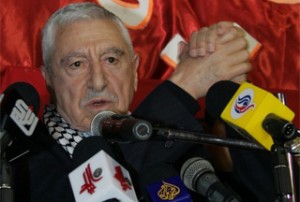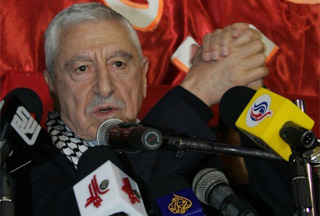 Head of the Democratic Front for the Liberation of Palestine criticizes a new Arab League decision to resume US-backed talks between the Palestinian Authority and Israel.
The criticism was made by the Head of the Democratic Front for the Liberation of Palestine (DFLP) Nayef Hawatmeh during an event marking the anniversary of the DFLP on Friday.
According to Hawatmeh, Israel is continuing with its settlement activities in Palestinian territories with little regard to its international commitments to the contrary.
The value of any negotiations with the Tel Aviv regime was also ruled out by the Hezbollah political council member Hasan Hadraj during the ceremony.
Hadraj also condemned repeated Israeli threats against Lebanon and Iran.
Tel Aviv is currently under intense pressure from the international community to halt the illegal settlement construction in the West Bank. Israeli settlements are widely regarded as the main hurdle in the way of comprehensive Israeli-Palestinian peace talks.
Under the so-called 2002 'Roadmap for Peace' plan brokered by the United States, the European Union, the United Nations and Russia, Israel has to 'dismantle settlement outposts erected since 2001 and also freeze all settlement activities.'
There are currently 121 Israeli settlements and approximately 102 Israeli outposts built illegally on Palestinian land occupied by Israel in 1967. All of these settlements and outposts are illegal under international law and have been condemned by numerous United Nations Security Council resolutions.
These settlements and outposts are inhabited by a population of 462,000 Israeli settlers. Some 191,000 Israelis are living in settlements around Jerusalem Al-Quds and an additional 271,400 are spread throughout the West Bank.