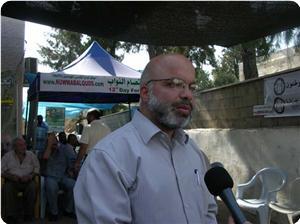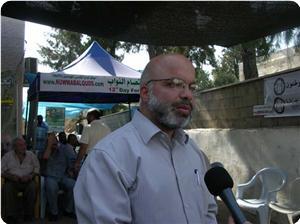 Palestinian Legislative Council member Ahmed Attoun from Jerusalem stated that the Israeli occupation forces' attack on the hunger striker Samer al-Issawi and his family in the court yesterday, demonstrates the Israeli criminal nature.
Attoun denounced the "brutal assault" on the family of al-Issawi by the so-called Nahacon Israeli forces, where they arrested his sister Shirin al-Issawi after raiding her family's home in the town of al-Issawiya north of the city of Jerusalem.
The attack on al-Issawi's family and the arrest of lawyer Shirin proved the Israeli failed attempts to silence the voices who worked to defend the prisoners' issue and to expose the Israeli crimes and racist policies, he added.
MP Attoun said the Israeli fabricate charges against the lawyer Shirin and her brother Samer are invalid attempts to blur the main case.
He added that such Israeli attempts aimed to keep the prisoner Samer and his colleagues in prison without embarrassing the occupation state.
At the same context, MP Attoun contacted yesterday the Egyptian Consul in the Palestinian territories, Hammam Abu Zeid, and asked him to intervene immediately to save the lives of prisoners on hunger strike in particular Ayman Sharawna and Samer al-Issawi, who entered a critical stage due to their hunger strike since more than 6 months.
The Jerusalemite MP who was exiled to Ramallah, Ahmed Attoun stressed the need for the Egyptian intervention to save these prisoners especially that Egypt was the mediator of Wafa al-Ahrar deal and to stop the Israeli attacks against the prisoners' families in particular.