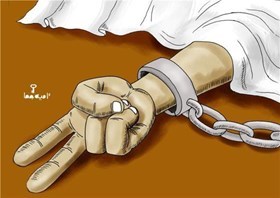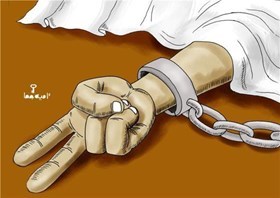 Medical reports showed that prisoner Sami Abu Diyak got poisoned and infected due to medical negligence at Israeli jails, his lawyer disclosed on Tuesday.
The family of prisoner Abu Diyak was allowed Tuesday evening to visit its son at Assaf Harofeh Hospital with the company of the lawyer of the Palestinian Prisoner's Society, Raslan Mahajneh.
The Israeli Occupation Authority (IOA) allowed the detainee's parents to visit him after his health condition critically worsened.
Lawyer Mahajneh underlined that the health of captive Abu Diyak deteriorated after he had undergone a surgery to remove a tumor in the intestines in Soroka Hospital on September 04.
He was transferred to Ramle prison clinic, which lacks medical equipment, before completing his medication and confirming the success of the operation. Then he was taken to Assaf Harofeh Hospital on September 13 as his condition worsened badly, the lawyer said.
Lawyer Mahajneh pointed out that the prison doctors described the status of captive Abu Diyak as critical. He is held at the ICU connected to artificial respiration devices under anesthesia.