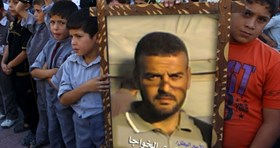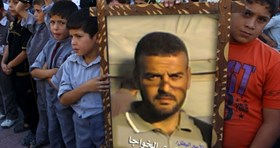 30 Palestinian prisoners from Hamas in Ofer jail intend on Monday to go on open-ended hunger strike in solidarity with detainee Shukri Khawaja, who has been in an isolation cell for about one and a half years.
According to the Palestinian Prisoners Center for Studies, prisoner Khawaja, 47, is being held in very difficult incarceration conditions and suffers from several chronic health problems.
The Hamas-affiliated prisoners declared their intention to start a hunger strike after Israel's intelligence apparatus, the Shin Bet, had broken several pledges to end his solitary confinement. Since his isolation, the prisoner has been locked up in a three-square-meter windowless cell, deprived of seeing his family, and only allowed for one hour to walk in the prison yard with his legs shackled.