Palestine
Palestinian Resistance activists ambush Israeli military jeep into ditch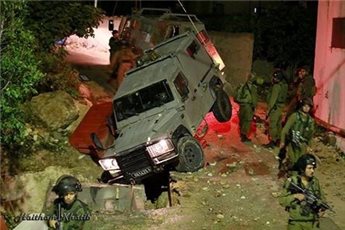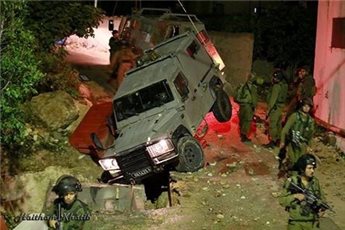 Palestinian activists from Bilin managed to ambush an Israeli military jeep into a ditch overnight Sunday during a raid in the Ramallah-area village.
Members of Bilin local committee told Ma'an that three Israeli military jeeps raided the village at 1:30 a.m. and broke into the home of mayor Basil Mansour.
The mayor was not at home during the raid, but soldiers left a message threatening to take tough measures against the village if youths continue to target Israel's separation wall.
Clashes broke out following the raid, with Israeli forces firing tear gas and rubber-coated steel bullets.
Before the incursion, several youths had dug a ditch in a dirt road in the village and covered it in plastic.
During the raid, several youths distracted one of the jeeps and got it to follow them, causing it to drive over the hole and fall into the ditch.
Seven military vehicles arrived in the area to help pull the jeep out.