Palestine
Palestinians attend funeral for youth killed by Israeli forces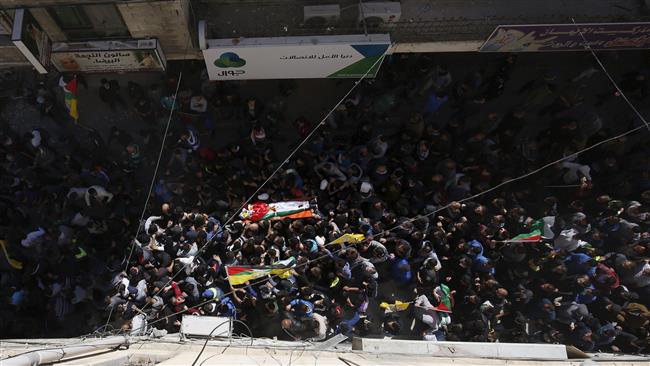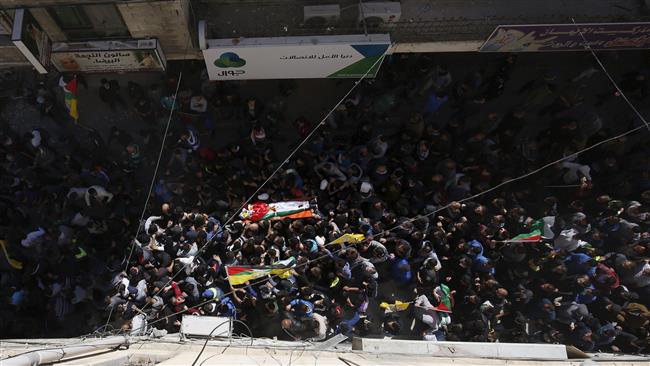 Hundreds of Palestinians held a funeral Tuesday for a young man who was fatally shot by Israeli forces near the occupied West Bank city of Ramallah.
The procession in the Qalandiya refugee camp, on the outskirts of Ramallah, took place hours after 22-year-old Palestinian, identified as Iyad Omar Sajdiyah, died of gunshot wounds.
The youth sustained injuries during clashes, which broke out after Israeli forces raided the Qalandiya refugee camp, firing tear gas canisters and using live munitions against residents. Six more Palestinians were also wounded during the confrontation.
Mourners chanted slogans calling for retaliation against "the Israeli occupation's crimes against the Palestinian people."
"My only son Iyad died a martyr in sacrifice for Palestine," the victim's father told reporters, adding, "He wasn't the first martyr, nor will he be the last."
The Qalandiya refugee camp has witnessed frequent violence recently. At least 10 of its residents have been shot dead by Israeli soldiers over the past few months.
The occupied Palestinian territories have been the scene of heightened tensions. The latest wave of tensions was triggered by Israel's imposition in August 2015 of restrictions on the entry of Palestinian worshipers into the al-Aqsa Mosque compound in East al-Quds (Jerusalem).
The restrictions have enraged Palestinians, who are also angry at increasing violence by Israeli settlers frequently storming the al-Aqsa Mosque. The Palestinians say the Tel Aviv regime seeks to change the status quo of the compound.
Since the start of October 2015, nearly 190 Palestinians have been killed by Israeli forces in what is regarded as the third Palestinian Intifada (uprising).