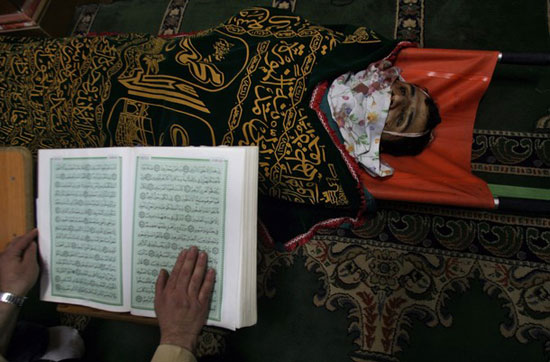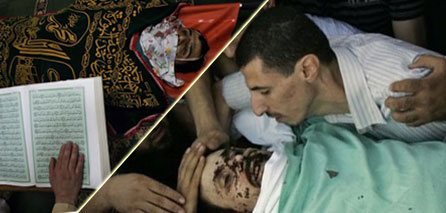 Hundreds of residents of the northern West Bank city of Tulkarem participated in the funeral of martyr Nash'at al-Karmi, the Qassam commander who was murdered by the IOF at dawn Friday in al-Khalil in the southern West Bank.
The body of the martyr arrived at the family home in the western part of the city for his family and friends to pay their last respects.
The body was then taken to the old mosque in the city where the funeral prayers were performed, attended by Hamas MPs from Tulkarem and those who could reach Tulkarem from neighbouring towns.
Participants in the funeral chanted support for Hamas and called for retaliation to the crime.
Karmi, 34 years, was one of the youngest deportees of Marj al-Zhour, when the Israeli occupation deported 416 activists affiliated with Hamas and the Islamic Jihad to southern Lebanon in December 1992.
He was detained by the Israeli occupation four times and spent more than seven years in Israeli jails. He was also wanted by the PA security which serves as an agent for the occupation.
He was married to a school teacher from al-Khalil and his wife gave birth to a little baby girl four months ago.
In Al Khalil, Thousands of Palestinians from the southern West Bank city of al-Khalil participated in the funeral of Ma'moun al-Natshe, while preperations for transferring the body of Nash'at al-Karmi to his hometown of Tulkarem are underway.
Participants in the funeral were chanting in support of Hamas and its armed wing the Qassam Brigades and calling on the Qassam Brigades to retaliate to occupation crimes.
The body of Natshe was first taken to Ansar Mosque where the funeral prayers were performed then he was carried on the shoulders of men who marched the roads of the city to the Martyrs Cemetery in Wadi Abu Kteila to the west of al-Khalil.
The IOF assault so far resulted in two martyrs, the demolition of two homes and the arrest of an unknown number of people.