Palestine
Palestinians celebrate victory, Israelis mourn 'embarrassing' ceasefire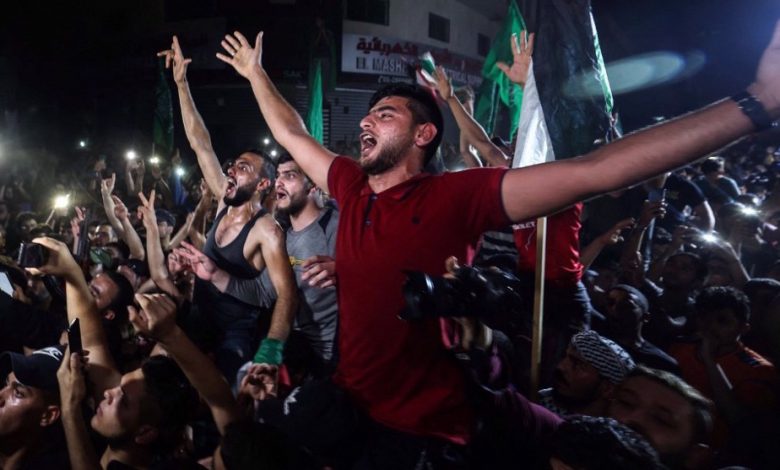 Palestinians in East Jerusalem al-Quds, the West Bank and the Gaza Strip celebrated victory against Israel, as a ceasefire unilaterally declared by Tel Aviv and accepted by Palestinian resistance groups went into effect early Friday.
In Gaza, which had been under heavy Israeli bombardment for 11 days, people came out onto the streets and chanted Allahu Akbar, while in East Jerusalem al-Quds and West Bank towns, people set off fireworks.
Mosques in Gaza broadcast celebratory chants through their loudspeakers to celebrate the end to the Israeli acts of aggression.
Israel on Thursday declared a unilateral ceasefire starting at 2 a.m. on Friday, and the Palestinian resistance groups in Gaza accepted it.
Senior Hamas official Osama Hamdan said the resistance groups have obtained guarantees from Egyptian mediators that the Israeli attacks on Gaza and the Sheikh Jarrah neighborhood in Jerusalem al-Quds and al-Aqsa Mosque – the issues that triggered the fighting – would stop.
Earlier, the Israeli security cabinet convened to discuss a unilateral ceasefire to come into effect on Friday, Israel's public broadcaster Kan said.
Israel began the aerial bombardment of the Gaza Strip on May 10, after weeks of violence against Palestinians at the al-Aqsa Mosque compound, where Israeli forces and settlers attacked Palestinian worshipers, and in Sheikh Jarrah neighborhood, where the regime tried to force Palestinians out of their homes to build more illegal settlements.
The Israeli regime killed at least 243 Palestinians, including 66 children and 39 women, through its aerial bombardment of Gaza. Palestinian resistance groups responded with thousands of significantly improved rockets, which caught Israel off guard and killed 12 people.
In a commentary, the Times of Israel wrote Friday that the Palestinian resistance in Gaza has turned into "a military monster which now aspires to compete with Hezbollah and is managing to embarrass Israel time after time".
Israeli politician slams 'embarrassing' ceasefire
Gideon Sa'ar, an Israeli politician and the leader of New Hope party, denounced Netanyahu's unilateral declaration of ceasefire with Hamas as "embarrassing".
"With the best intelligence and air force in the world, Netanyahu managed to extract from Hamas an 'unconditional ceasefire' — embarrassing," Sa'ar tweeted.
Earlier, he had warned against a ceasefire, saying such a move "would seriously harm Israeli deterrence" against Hamas and other resistance groups.
Israeli settlers near Gaza were told on Thursday night that they can leave their bomb shelters, hours after they were instructed to enter them over rockets fired by resistance groups in Gaza.
The Israeli military, however, called on the settlers of communities within four kilometers of the Gaza border to remain within close proximity of a bomb shelter.
'Palestinian struggle bolstered'
Political analyst Khalil Shaheen said the Palestinian struggle against Israel has been bolstered as a result of their resistance against the regime's crimes.
Speaking with the Middle East Eye, Shaheen said the struggle against the occupation has been taking a new turn since 2014.
After the announcement of the ceasefire, a senior Hamas figure said in a speech to thousands of people celebrating in Gaza that the ceasefire was a victory against the Israeli regime.
"This is the euphoria of victory," said Khalil al-Hayya, the second most senior member of the Hamas political bureau in the Gaza Strip.
Hayya also promised to reconstruct homes destroyed by Israeli air raids.