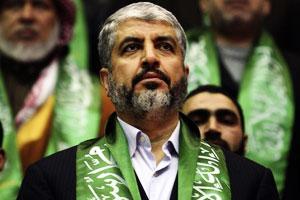 Hamas leader Khaled Mash'al said Saturday that all options against Zionist entity remain open, including war, according to Zionist entity media.
"We will do everything to obtain the rights stolen from us, including confrontation with the enemy," he told journalists, Zionist entity's Channel 10 reported.
His comments were made during a meeting with senior members of Palestinian factions at his home in Damascus, Syria.
"The possibilities for war exist in the entire region," the Zionist daily Yedioth Aharonot reported the exiled Hamas leader as saying.
"A conflict with the Zionist enemy is possible in any scenario … We shall realize our right by standing firm in the face of aggression through resistance," the daily wrote.
Meanwhile, in Gaza, factions met to discuss Zionist entity's escalation in military action in the coastal enclave, with conveners asserting the need for a unified stance against such actions.
Conveners in Gaza City further said that popular activities denouncing Zionist policy, particularly in East Jerusalem. According to a senior Islamic Jihad leader, projectile fire was not discussed at the meeting.