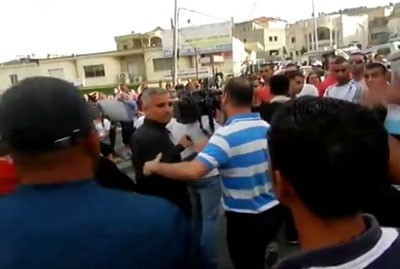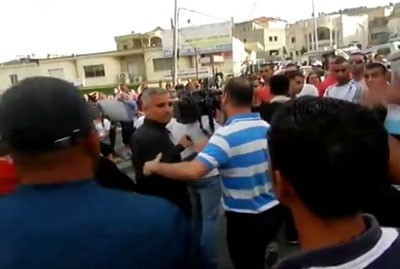 Palestinians participating in a march marking the occasion of Land Day on Saturday expelled the Qatari al-Jazeera Channel's staff from Sakhnin City in the occupied Palestinian territories of 1948 in protest of its hostile and provocative follow- up of Syria's file.
The Palestinians expressed rejection of al-Jazeera covering Land Day, annually celebrated by Palestinians to emphasize their full right in the occupied Palestinian territories, objecting to the channel's lack of integrity and objectivity in its coverage of the Syrian crisis.
Addressing the al-Jazeera staff, they chanted "Out …Out the Syrian Land is Free," the thing which forced them to leave the march at once.
Hoisting the Syrian and Palestinian flags, the participants expressed their full support to Syria, stressing that the Palestinian-Syrian cohesion and rejection of Israeli-international imperialistic conspiracy against Syria should be the title of Land Day.
This is not the first time that al-Jazeera staffs have been expelled by angered protestors, as Tunisians repelled al-Jazeera Mubashar (Live) staff two weeks ago during an attempt to cover a protest held on the occasion of marking 40 day after the assassination of the opposition struggler, Shukri Baleid.