Palestine
Palestinians in Ramallah slam Israel policies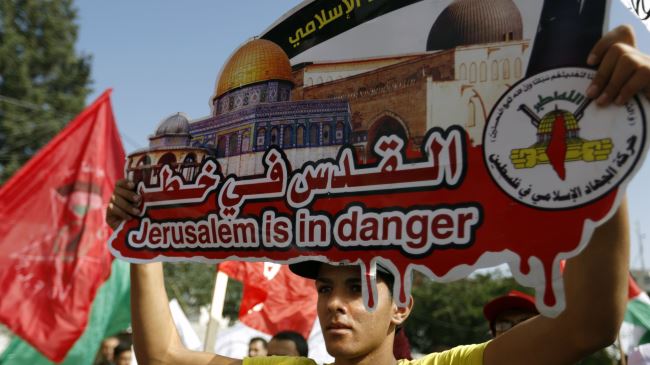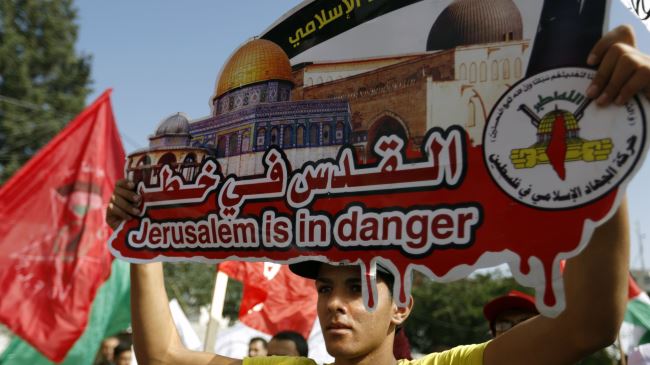 Palestinian protesters condemn restrictions imposed by Israel on Palestinians' access to the al-Aqsa Mosque in East al-Quds (Jerusalem).
Demonstrators took to the streets in the West Bank city of Ramallah on Friday following a call by the resistance movement Hamas.
One of the protesters told Press TV that the al-Aqsa Mosque is being Judaized and it has been attacked by radical Israeli settlers in an attempt to weaken the resistance.
"This is why we should raise our voice, saying what is going on in occupied Palestine mainly against al-Aqsa Mosque is unacceptable," the protester said.
Palestinians also carried banners that read, "Al-Aqsa is in danger" and, "Our souls for al-Aqsa" during the demonstration.
For the second consecutive Friday, Israeli authorities imposed restrictions on entry of Palestinians into the mosque compound. The move came a few days after Israeli settlers were given access to visit the holy site.
Another protester said the Friday demonstration was in support of the people in al-Quds.
"This is the biggest danger al-Aqsa Mosque is facing. This is why Muslims all over the world should do their best in supporting al-Aqsa."
Mahmoud Abbas, president of the Palestinian national unity government, has called on all Palestinians to use "all means" necessary to protect the mosque against Israeli vandals.
Palestinians "must be present at the al-Aqsa Mosque," he said he said in the West Bank town of al-Bira on Friday. "We must stop them (the Israeli settlers) from entering by any means possible. This is our mosque and they have no right to enter it and defile it."
On Thursday, Khaled Meshaal, the political bureau chief of the resistance movement Hamas, warned that Israel is taking advantage of the current crisis in the Middle East to exert its control over al-Aqsa.