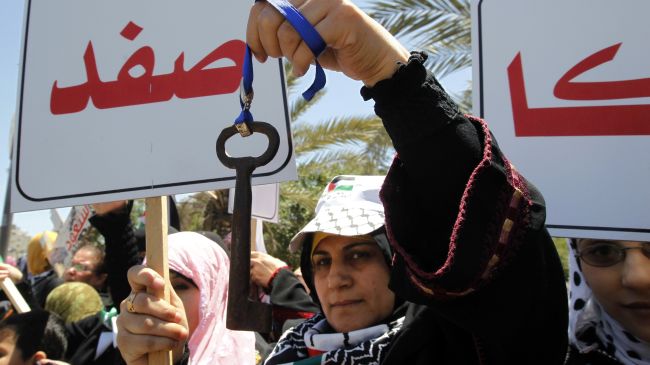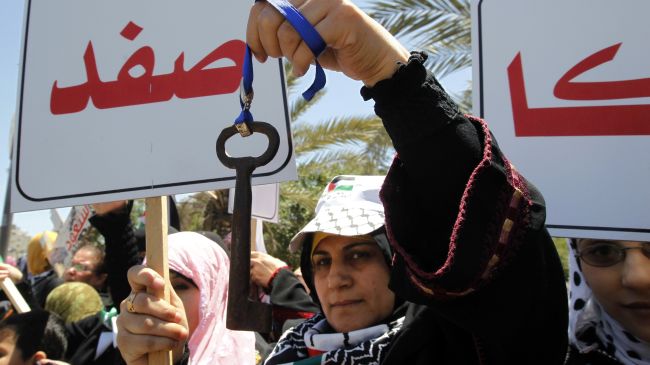 Hundreds of Palestinians have rallied in the West Bank city of Bethlehem to mark the 65th anniversary of the Nakba Day, also known as the Day of Catastrophe.
Israeli forces attacked the protesters with tear gas and rubber bullets on Tuesday as they were heading to their ancestral villages, which are now under Israeli occupation.
Israeli troops also detained Mazin al-Azzah, the coordinator of a popular committee against the Israeli settlements.
Similar demonstrations were held in the Gaza Strip.
Meanwhile, Palestinian refugees gathered in front of a UN office in the Lebanese capital, Beirut, to reiterate their right of return to their land.
Every year on May 15, Palestinians all over the world hold demonstrations to commemorate Nakba Day, which marks the anniversary of the forcible eviction of hundreds of thousands of Palestinians from their homeland by Israelis and the creation of Israel in 1948.
Last year, dozens of Palestinians were killed in southern Lebanon, Gaza, the West Bank and Syria's occupied Golan heights by Israeli forces during Nakba Day protests.
On May 15, 1948, Israeli forces displaced some 700,000 Palestinians, forcing them to flee to different neighboring countries.
Israeli soldiers also wiped nearly 500 Palestinian villages and towns off the map, leaving an estimated total of 4.7 million Palestinian refugees and their descendants dreaming of an eventual return to their ancestral homeland more than six decades later.