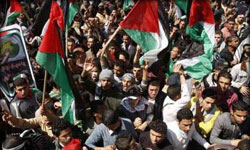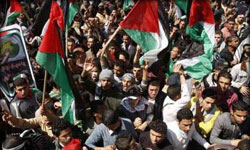 Rallies have been planned in Ramallah and Gaza to mark Palestinian Prisoners' Day in honor of the thousands of the Palestinians kept in Israeli jails.
Activists and families of prisoners gathered on Wednesday, calling on the international community to intervene, to release some of the Palestinian prisoners, specially those on hunger strike.
Central to the demonstrations is the fate of at least five of the prisoners, including Samer Issawi, who have been on hunger strike.
Hana Shalabi went on a hunger strike in February last year, lasting 43 days before she was deported to Gaza Strip. Some, such as Maysara Abu Hamdeya, who had cancer, died shackled to a hospital bed.
Several of the Palestinian prisoners have not been charged with a crime.
The Palestinian Prisoners' Society says more than 215 children and 14 women are in jail.
El-Shamayleh said that since the start of the Israeli occupation in 1967, about 800,000 Palestinians have been detained at some point.
"So this is a crucial and important issue for most Palestinians families, as many of them have once had family members in Israeli prisons," she said.
The correspondent said, "This is also an important day for the Palestinian Authority, politically".
"It has been demanding the release of 110 prisoners before signing the Oslo Accords in 1993, however, they are still in prison."