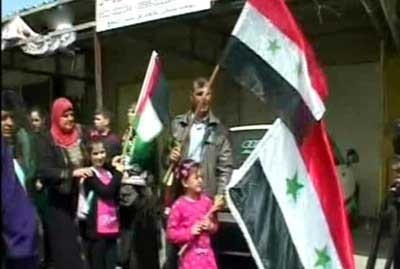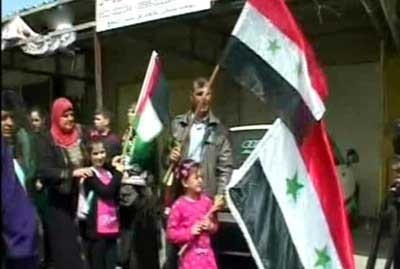 The Palestinian Popular Committee for Defending Syria in occupied Palestine has organized an event in protest against the role of the Israeli entity in the attack against Syria and in supporting the terrorism which targets its resistant Arab people backed by the US and financed by the Gulf states.
The participants in the event, which took place at Kalandia Crossing to the south of Ramallah city in the West Bank, expressed solidarity with the Syrian people and army in the face of the Zionist-Imperialistic conspiracies.
They asserted that Syria will get out of the crisis stronger thanks to the unity of its people, the bravery of its army and the wisdom of its leadership.
They raised the Syrian and Palestinian flags, and they chanted slogans expressing the unity of the Arab struggle in the face of the Israeli occupation.
The Israeli soldiers tried to quell the participants as they fired tear gas and stun grenades at them injuring seven.
Palestinian Watan News Website quoted Coordinator of the Committee Sabrin Dyab as saying that what is taking place in Syria is an organized attack which aims at undermining the axis of resistance.
She affirmed that the terrorist groups backed by foreign parties are the ones who commit the crimes in Syria.