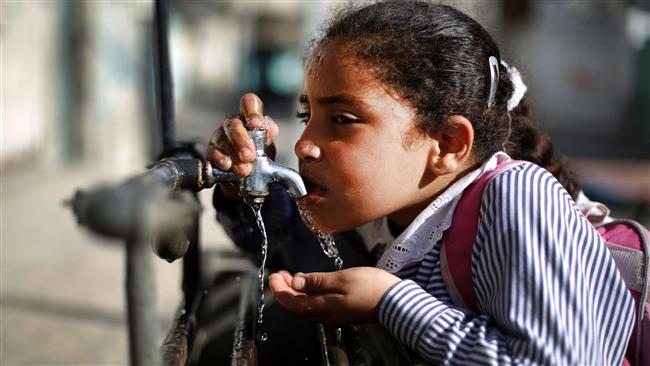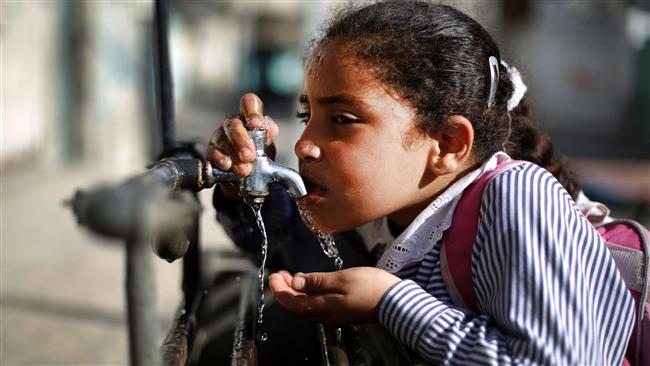 Palestinian authorities have slammed what they call Israeli's unjust distribution of resources, saying the measure is affecting water supply and sanitation in occupied territories and threatening lives.
In a joint statement marking World Water Day on Sunday, the Palestinian Water Authority (PWA) and the Palestinian Central Bureau of Statistics (PCBS) have complained that residents are suffering from unfair water distribution by Israel as Tel Aviv consumes the vast majority of the water supply.
"Palestine suffers from the unfair distribution of water sources, which remain under almost full Israeli control. As an evidence to this inequality, the Israeli daily share per capita of water consumption reached seven times higher than the Palestinian's," said the statement as cited in an RT report on Monday.
According to the report, daily water consumption by Israelis is up to seven times higher than that of Palestinians. This is while other estimates suggest that Israel is using 85 percent of the water supply in the West Bank, which covers a quarter of its needs.
Moreover, the authorities insist, the water that remains for native Palestinian residents is of poor quality and does not meet international standards.
"More than 90% of the water pumped from the coastal aquifer in Gaza Strip does not satisfy the water quality standards of the World Health Organization (WHO)," according to the statement.
This is while the water quality in the besieged Gaza Strip is considerably worse than that available in the West Bank, with only 5.8 percent of Gazans satisfied in 2013, compared to a 73.5 percent rate of satisfaction in the West Bank, the statement added.
Additionally, the Palestinian authorities underlined that the Israeli regime deprives them of their right to an estimated 250 mcm (Million Cubic Meters) annual extract from the Jordan River since 1967.
Meanwhile, the prospects of sustainable water access for Palestinians are further put at risk by the latest UN forecasts, which state that the world may suffer a 40-percent shortfall in water in just 15 years.
Water shortages have negatively impacted the Palestinian economy, especially its agriculture, leaving farmers with inadequate supplies for irrigation.