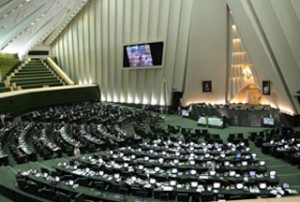 Iran's Parliament has resumed a debate for the second consecutive day on vote of confidence for 10 ministers proposed by President Mahmoud Ahmadinejad.
The three-day debate on President Ahmadinejad's 21-member Cabinet line-up began on Sunday with some lawmakers criticizing him over the proposed ministers.
In Majlis' Monday session, the lawmakers will discuss for and against 10 nominees who will each have the opportunity to defend their plans.
The lawmakers began Monday discussions with confidence vote of Mrs. Soussan Keshavarz — Ahmadinejad's pick for the Ministry of Education.
The proponents and opponents expressed their views for and against the proposed education minister with some opponents arguing that she lacks proper credentials for the job.
In the run up to his second four-term in office, Ahmadinejad made major changes to the combination of his Cabinet while he selected three women to head key ministries for the first time in the country's history.
Parliamentary debates over the new cabinet kicked off on Sunday in Iran with President Mahmoud Ahmadinejad delivering a speech about the plans of the future government an in defending his chosen candidates
After his Sunday speech, lawmakers took the opportunity to express their viewpoints on the choices, with some criticizing and others praising the proposed nominees.
Some deputies who seemed to be not easily convinced said that the executive experience or education of some of the nominees did not suit the proposed posts and that the president had generally chosen individuals who were loyal to him.
Leading Principlist lawmakers including Mohammad-Reza Bahonar, Ali Motahhari and Ahmad Tavakkoli raised questions about the Cabinet line-up in political, cultural and economic aspects.
On the other hand, those who spoke in favor of the president said that the slogans of the ninth government — the first term of President Ahmadinejad — were in line with the principles of the Islamic Revolution and were approved by the nation.
After receiving different viewpoints on his choices, President Ahmadinejad went back to the podium to defend his introduced nominees.
To take office, the potential ministers will have to gain the Parliament's vote of confidence by winning the approval of the majority of the representatives.