Syria
Parliament Speaker: Only Syrians have right to determine their destiny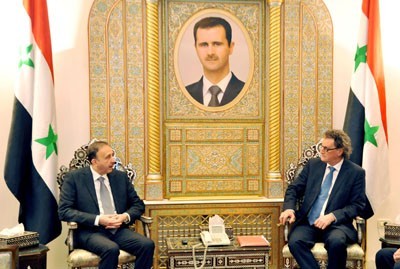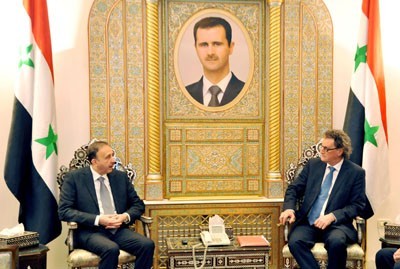 Speaker of the People's Assembly, Mohammad Jihad al-Laham said only the Syrian people have the right to determine their destiny and choose their representatives through the ballot box.
During his meeting Thursday with the Swiss MP Geri Müller, al-Laham pointed to the absence of a genuine international will to combat terrorism and expose its sponsors and backers, namely Saudi Arabia.
He urged for obliging all countries to implement the UN counterterrorism resolutions, for terrorism, he said, is a "threat to international security and peace."
The Coalition's delegation is negotiating with the Syrian government's delegation in Geneva on behalf of their masters, al-Laham said. "They decline to accept the ballot box as an arbiter, for they have no popular support base to count on in any elections."
"Three years into the terrorist US-Western war against Syria, the Syrian government continues to provide basic needs and services for citizens," the Parliament's speaker said, in what he attributed to the Syrian government's independent national decision.
Al-Laham said he is upbeat about Syria's victory thanks to the steadfastness of the Syrian people and the army's sacrifices.
He called for invigorating parliamentarian relations and coordination at international forums about pressing issues, especially the anti-terrorism drive.
Müller said he came to Syria to have a close look at the situation in this country away from media disinformation. "The dominant sentiment in Europe on Syria is shifting as the media is becoming increasingly aware of the terrorists fighting there and their potential danger to European countries."
He pointed out that the US credibility is shaking, hailing the Syrian government's efforts to end the crisis through dialogue and political solution.
"The Syrian army knows how to deal with the terrorist groups without inflicting losses on civilians," the Swiss MP said.
In the same context, Chairwoman and members of the Arab, External relations committee at the People's Assembly discussed with Müller the importance of showing the reality of what is going on in Syria to the public opinion, away from the falseness and fabrications of some mass media which carry agendas in Syria.
Fadia Deib, chairwoman of the committee said that Syria, since three year, has been suffering from terrorism, brought into the country by Arab, western tools with a media, political and economic embargo to blackout the reality of events in the country and falsify them in the interest of those powers which seek destruction of the State.
"Terrorism is killing the Syrians under the motto of freedom, democracy and humanity at a time when the armed terrorist groups try to exclude different spectrums of the Syrian people," Deib added.
For his part, Müller affirmed that the Syrians are confronting a global war, adding that what escalates the situation is the contradiction in the US policy which pays billions of dollars to combat terrorism while it feeds and forms terrorist groups in different regions of the world.