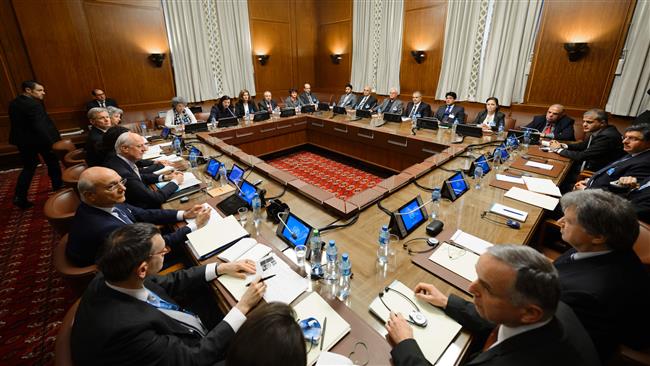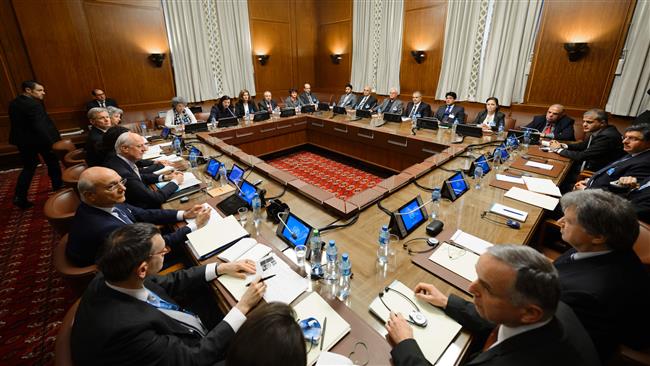 Iranian Foreign Minister Mohammad Javad Zarif has called on all sides involved in the Syria conflict to engage seriously in the negotiations aimed at finding a political solution to the deadly crisis in the Arab country.   
Zarif made the remarks upon arrival at the German city of Munich on Thursday to attend a meeting of the International Syria Support Group (ISSG).
The top Iranian diplomat further pointed to "certain subversive attempts" that led to a halt in Syria talks earlier this month, stressing that "we are now at an important juncture and the negotiations need to be pursued seriously."
The latest round of talks on the Syrian conflict, which was held in the Swiss city of Geneva on February 3, were suspended after the Saudi-backed opposition group, known as the High Negotiations Committee (HNC), refused to attend the sessions.
Observers say the so-called HNC refused to continue after the Syrian army, backed by Russian air cover, made significant gains against Takfiri militant groups on several fronts, particularly in the strategic northern province of Aleppo.
The opposition has now called for a halt in Russia's anti-terror campaign as a condition for its participation in the negotiations, which are expected to resume on February 25.
Zarif further stressed that a solution to the Syria conflict has been overdue, adding that the "wrong policies as well as irrational, impractical and illegal preconditions" are to blame for a delay in reaching a solution to the crisis in the Arab country.
The senior Iranian official reaffirmed opposition to any foreign interference in Syria and said outsiders should only help facilitate a peace process in Syria.
"Western and regional countries should recognize the realities behind a joint full-fledged fight against extremism and sectarianism and work toward a logical solution to the Syria crisis," he said.
Zarif also underlined the need for identification and differentiating of real opposition representatives from terrorists for the peace talks to bear fruit.
The Iranian minister is set to address the ISSG meeting which is to begin later  on Tuesday. The talks aim to find a solution to the nearly five years of conflict in Syria.
US Secretary of State John Kerry and his Russian counterpart Sergei Lavrov host foreign ministers from the 17-nation Syria contact group in the meeting.
The Iranian foreign minister said he is also scheduled to hold talks with his counterparts from Russia and China as well as United Nations Syria envoy Staffan de Mistura on the sidelines of the Munich forum.
Diplomatic delegations from Iran, Saudi Arbia, China, Egypt, France, Germany, Iraq, Italy, Jordan, Lebanon, Oman, Qatar, Russia, Turkey, the United Arab Emirates, the UK, the US as well as the Arab League, the European Union and the United Nations are attending the Munich talks.