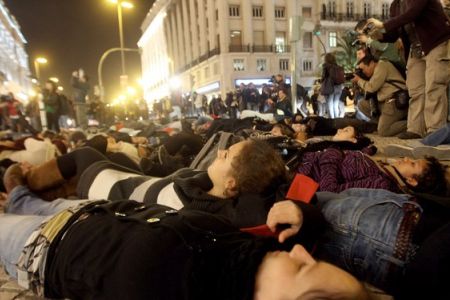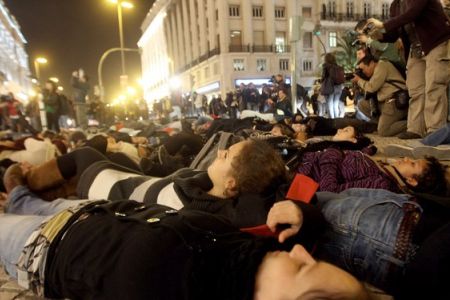 Anti-NATO activists have planned protests ahead and during the summit to oppose the war and call for an immediate withdrawal of NATO troops from Afghanistan.
Hundreds of angry anti-war protesters and activists from across Europe gathered in the Portuguese capital on Thursday.
They staged rallies and chanted slogans against the US-led military alliance's persisting policy of advocating war in Afghanistan
The two-day summit will begin on Friday in Lisbon.
Afghanistan is scheduled to be among top priorities on the summit's agenda.
The move has drawn angry reactions from anti-NATO activists. Activists have vowed to wage more rallies every day until the summit ends on Saturday.
Portuguese police have beefed up security and entry measures into the country ahead of the upcoming NATO-summit in Lisbon.
The strict security measures come as some 40 heads of state will gather in Lisbon to attend a summit to decide on a transition and withdrawal date from Afghanistan.
The protests come as Mark Sedwill, the top civilian NATO representative in Afghanistan, said on Wednesday that the transition could run "to 2015 and beyond" in some areas that could still face security problems.
Senior officials in Washington have recently confirmed that American troops will remain in the war-ravaged country for at least four more years.
This comes despite an earlier pledge by US President Barack Obama that a major US troop withdrawal from Afghanistan will begin by July 2011.
Afghan President Hamid Karzai recently demanded the reduction of the US troop presence and military operations in the country.
In an interview published on Sunday, President Karzai called on the US military to reduce its visibility and the intensity of its operations in Afghanistan and end its night raids in the country.
"The time has come to reduce military operations," the Afghan president told The Washington Post.
"The time has come to reduce the presence of, you know, boots in Afghanistan … to reduce the intrusiveness into the daily Afghan life," he added.
This is while over 100,000 Afghans have been killed since the US-led war began in October 2001.
Hundreds of civilians have lost their lives in US-led airstrikes and ground operations in various parts of Afghanistan over the past few months, with Afghans becoming increasingly outraged over the seemingly endless number of deadly assaults.
There are currently more than 150,000 US-led foreign forces stationed in Afghanistan.
In a rare acknowledgement, newly-appointed French Defense Minister Alain Juppe has described Afghanistan as "a trap for all the parties involved."
Meanwhile, some 650 foreign troops have lost their lives in Afghanistan so far, making 2010 the deadliest year for the US-led forces since the start of the war in 2001.
The increasing number of troop casualties in Afghanistan has sparked widespread anger in the US and other NATO member states, undermining public support for the continuation of the Afghan war.