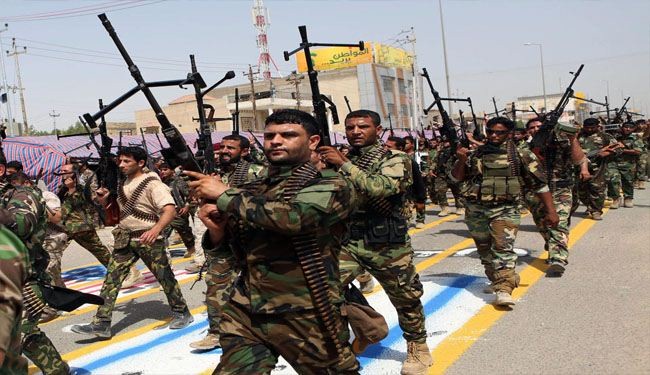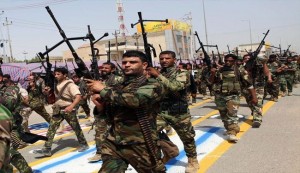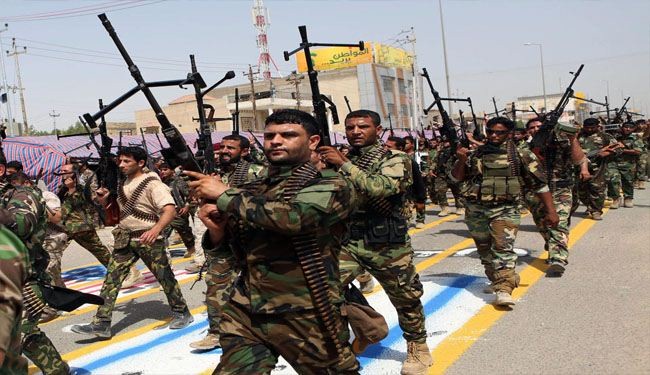 Thousands of volunteers of the newly formed Peace Brigades have participated in parades through several Iraqi cities, as Iraqi army troops, along with volunteers, battle militants from the terrorist group of Islamic State of Iraq and the Levant (ISIL).
The parades were staged by followers of Shia cleric Muqtada al-Sadr. In Baghdad, about 20,000 men, many in combat gear, marched through Sadr City. Similar parades were held in the southern cities of Amarah and Basra.
Peace Brigades have been formed to protect all holy shrines and sites as well as mosques and churches against any possible attack by the ISIL terrorists.
Salah al-Obeidi, the official spokesman for Sadr's office, said that the main aim of the parades is to send a message to terrorists and let them know that we stand against those who attack our holy sites and country.
The parades also conveyed an important message to the Iraqi people that we would defend them and our dear country against any peril, Obeidi added.
Obeidi underscored that the sole aim of Peace Brigades was to defend religious sanctities, adding that the protective mission was not limited to Shia holy shrines but to defend all holy sites and worshipping places as well as churches.
Newly-recruited Iraqi volunteers, loyal to Sadr, underwent training on Thursday to join the army after the Shia cleric urged his supporters across the country to enhance unity among the Iraqi people.
Tens of thousands of volunteers have so far joined the Iraqi troops who are engaged in a fierce battle against militants from the ISIL in northern and northwestern areas.
Days ago, Iraq's top Shia cleric Ayatollah Ali al-Sistani, called on the Iraqi people to join the battle and defend the country.
Iraqi media say more than two million people have so far voiced their readiness to join the fight.
On June 10, the ISIL militants took control of Mosul, the capital of Nineveh Province, in a lightning advance, which was followed by the fall of Tikrit, located 140 kilometers (87 miles) northwest of the capital Baghdad.
Iraqi armed forces are preparing to stage a massive offensive from several fronts to push militants out of the cities of Tikrit and Mosul.