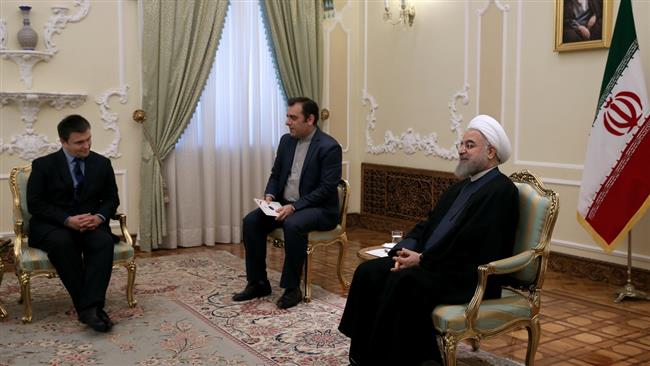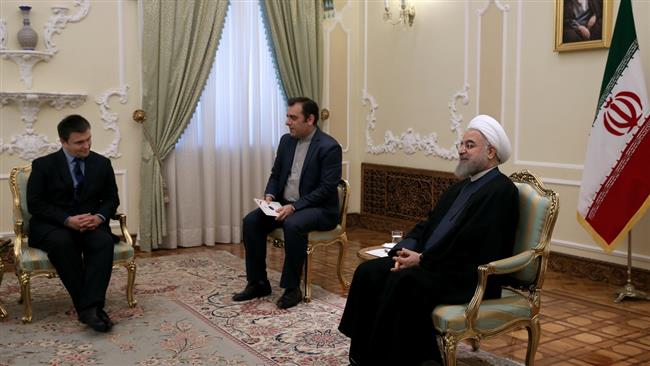 President Hassan Rouhani has told Ukraine's Foreign Minister Pavlo Klimkin that peace and stability in eastern Europe is important to Iran.
"Dialog, political negotiations and peaceful solutions are the only way to guarantee lasting security and resolve regional problems," Rouhani said in Tehran on Sunday.
Ukraine is locked in a confrontation with Russia over unrest in the country's east which has been the scene of heavy fighting between Kiev forces and pro-independence militants since 2014.
According to the United Nations, more than 9,000 people have lost their lives and some 20,000 have been injured in the conflict since April 2014.
On Sunday, five Ukrainian soldiers were killed and four others injured in fresh clashes with pro-Russians in the east, the second biggest casualty toll in a single day this year.
Eastern Europe is also becoming a new flashpoint for confrontation between Russia and the West amid a US-led military build-up near Russian borders.
On Sunday, Polish Foreign Minister Witold Waszczykowski said a US missile system to be located in Poland does not pose a threat to Russia's security.
President Vladimir Putin said on Friday that Poland and Romania could find themselves in the sights of Russian rockets because they are hosting elements of a US missile system that Moscow considers a threat to its security.
Iranian President Hassan Rouhani (R) meets with Ukrainian Foreign Minister Pavlo Klimkin in Tehran on May 29, 2016. (IRNA)
Iran-Ukraine ties
Rouhani described Ukraine as a friendly country, saying Tehran seeks to further expand its relations with Kiev in all areas, particularly in the economic and energy fields.
The president called for better connection between Iranian and Ukrainian banks, saying this would facilitate enhancement of bilateral relationship.
Klimkin described Iran as a "great country" with a deep-rooted history and rich culture, saying Ukraine is interested in closer ties with the Islamic Republic.
He said Ukraine seeks to deepen relations with Iran in different fields, including economy, energy, science, tourism, culture and agriculture under a roadmap drawn up by the two countries.
Klimkin also met with his Iranian counterpart Mohammad Javad Zarif to discuss bilateral ties as well as regional and international issues.
Zarif said Iran's nuclear agreement has improved financial interaction among state-owned and private companies of the two countries.
The Iranian minister touched on the capacities which exist in the two countries in the fields of higher education, science and technology, as well as energy and agriculture.
Zarif said he hoped Ukrainian and Iranian traders and owners of industry would help upgrade relations between the two countries as officials of the two sides step up their contacts and visa requirements are eased up.
Klimkin said, "We are interested in expanding our bilateral relationship at all political and economic levels through increasing contacts between officials of the two countries."