Europe
Pentagon officials say most Russian troops left Ukraine border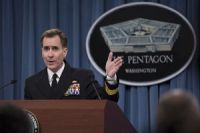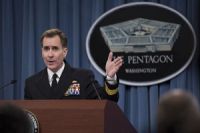 The US Defense Department confirms the majority of Russian troops that were stationed along Ukraine's border are pulling back and returning to their military bases, Press TV reported.
"I can confirm that at least two thirds of the Russian forces have repositioned off the border and we are continuing to monitor," Pentagon spokesman, Col. Steve Warren, told reporters Friday.
Rear Admiral John Kirby, Pentagon spokesman, also told reporters traveling to Singapore with Defense Secretary Chuck Hagel that a "majority of the Russian forces" have been withdrawn from the Ukrainian border.
Hagel, who is in Singapore to attend a security conference, has called the withdrawal of the Russian troops from the border a "promising" sign, but said all troops positioned there earlier this year needed to be moved back.
Earlier in May, the White House said there was "no evidence" that Russia had pulled out its troops, despite an announcement by Russian President Vladimir Putin that "today they are not on the Ukrainian border."
US and NATO officials have estimated that about 40,000 Russian forces had been aligned along the border with a restive eastern Ukraine that has been wracked with violence between government security forces and pro-Russian protesters.