Syria
People around globe stage demos against war on Syria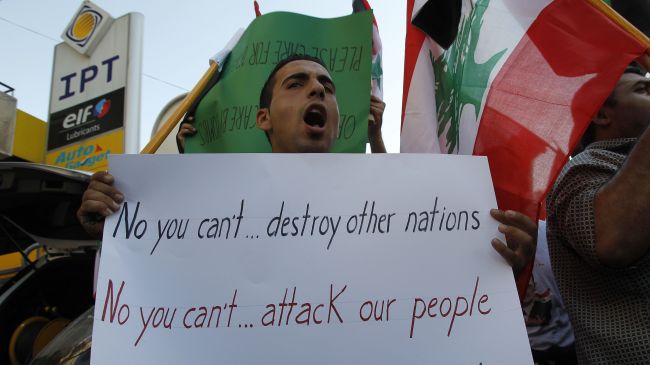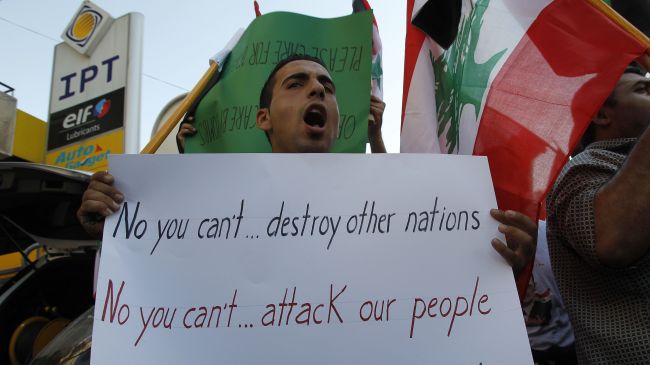 People have staged demonstrations to protest against a plan by the United States to carry out a military strike against Syria.
On Saturday, around 300 protesters staged a demonstration outside the US Embassy in the Lebanese capital Beirut.
"With our blood and soul we will sacrifice for you Syria," the people shouted, as they carried the Syrian and the Lebanese flag.
The demonstrators, who gathered in the area for the second day in a row, said they reject any efforts to launch a war on Syria.
"We are here today to reject the aggression on Syria. We are not here biased towards a pro- or anti-government stance. We are here to defend the Syrian people," said a young protester.
Another demonstration was held in the southern city of Sidon, where the protesters shouted slogans against war on Syria and carried pictures of Syrian President Bashar al-Assad.
In the Philippines, demonstrators gathered in the capital Manila to show their opposition to military attack on Syria.
Pakistani Shia Muslims also held a protest rally in the port city of Karachi.
Also in New York City, demonstrators took part in a rally in Times Square.
US protesters also gathered in front of the White House calling on Congress to reject President Barack Obama's war plan.
Meanwhile, Obama has been pushing Congress to approve of a military intervention in Syria.
The call for military action against Syria intensified after foreign-backed opposition forces accused Assad's government of launching a chemical attack on militant strongholds in the suburbs of Damascus on August 21.
Damascus has denied the accusation, saying the deadly attack was a false-flag operation carried out by the militants in a bid to draw in foreign military intervention.
Syria has been gripped by deadly unrest since 2011. According to reports, the Western powers and their regional allies — especially Qatar, Saudi Arabia, and Turkey — are supporting the militants operating inside Syria.
In a statement issued on Tuesday, the United Nations High Commissioner for Refugees said the number of Syrian refugees, who have fled the country's 29-month-long conflict, reached two million.
The UN refugee agency also said some 4.2 million people have also been displaced inside Syria since the beginning of the conflict in the Arab country.