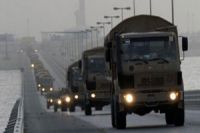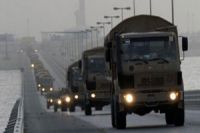 A Kuwaiti official said the members of the Persian Gulf Cooperation Council have launched a 17-day joint military exercise in Kuwait to implement their 'unified defense strategy'.
According to Press TV, Brigadier Abdulaziz al-Rayes, the head of the Kuwaiti army's public relations, said the drills, which began on Sunday, aim at "activating the concept of joint defense… and implementing the unified defense strategy of the Persian Gulf Cooperation Council states."
The military exercises include ground, naval and air forces from the Peninsula Shield Force, which was formed by the six Persian Gulf Cooperation Council member states in 1982.
Rayes did not reveal the number of troops taking part in the drill. He also denied any relation between the exercise and the uprisings in regional countries such as Bahrain.
Rayes said: "The exercise was prescheduled and agreed for years. It is unrelated to any regional or political events."
In 2011, Peninsula Shield troops led by Saudi Arabia were sent to Bahrain to help the Al Khalifa regime crush the peaceful protests in the country.