Africa
Persian Gulf Arab States Plot to Disintegrate Libya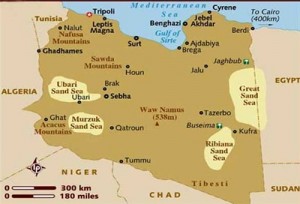 A number of Persian Gulf Arab countries have hatched plots to disintegrate the Eastern part of Libya from the African state, Libyan sources said on Sunday.
"The Persian Gulf littoral Arab regimes which are infamous for their enmity toward Arab (popular) revolutions have decided to support the militant and separatist groups' movements in Eastern Libya, specially the oil-rich territories of Barqa," informed Libyan sources told FNA on the condition of anonymity.
"The goal of the Arab regimes which include Saudi Arabia, the United Arab Emirates, Jordan and Algeria is to strengthen the June 30 coup in Egypt and further reinvigorate the bases of former Egyptian Defense Minister Abdel Fattah al-Sisi's government," they added.
Elaborating on goal pursued by the Arab countries' efforts and support for the disintegration of Libya, the sources said that they want to take the control of Barqa from Tripoli and put it under the control of Cairo so that the newly-established government in Egypt can use the rich oil resources in Barqa.
The leaders of a movement for self-rule in oil-rich Eastern Libyan unilaterally announced Thursday the formation of a shadow government, the latest challenge to the weakened central authority.
The announcement came several months after the movement, backed by some militias and local tribes, declared the Eastern half of Libya to be an autonomous state, named Barqa, claiming broad self-rule powers and control over resources.
The central government in Tripoli had rejected the declaration. It had no immediate comments on Thursday.
Advocates of the self-rule in the East have been pushing for reviving the system maintained under King Idris in 1951. Libya then was divided into three states, with Cyrenaica – or Barqa as it was called in Arabic – encompassing the Eastern half of the country.
Opponents fear a declaration of autonomy could be the first step toward the outright division of the country, particularly with the turmoil that struck in the aftermath of the fall of longtime dictator Moammar Gadhafi.
The tension between the central government and eastern militias and tribal leaders has already disrupted the exports of oil. Eastern militias earlier seized control of oil exporting terminals, sending production plunging from 1.4 million barrels a day to around 600,000, robbing the country of its main revenue source.