World News
Peruvians protest against Fujimori's presidential candidacy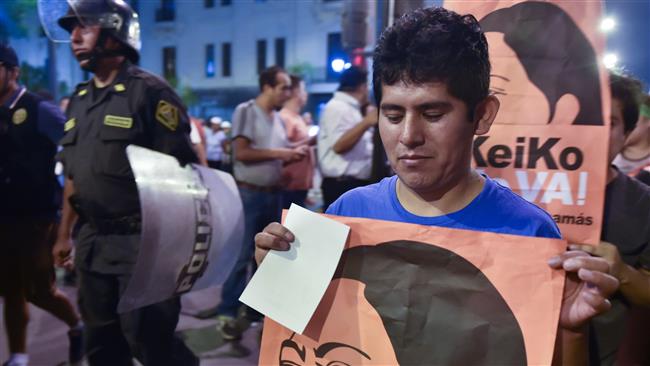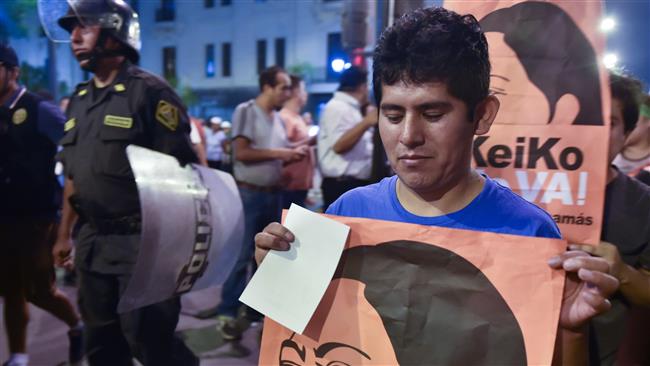 Tens of thousands of Peruvians have held demonstrations to protest against Keiko Fujimori's presidential bid and to recall human rights abuses committed under the rule of her father, Alberto Fujimori.
The protesters chanted "Keiko's not going (to be President)!" as they made their way through the streets of Lima and other Peruvian cities, denouncing the favorite ahead of Sunday's vote.
They said a vote for Fujimori would be a vote for ex-president Alberto Fujimori who is now serving a 25-year sentence for human rights abuses and corruption committed during his 1990-2000 government.
Demonstrators recalled the 24th anniversary of the "self-coup" carried out by Alberto Fujimori when he dissolved Congress and assumed broad power. They also ridiculed Keiko Fujimori's promise to never repeat her father's power grab.
Keiko Fujimori suspended campaigning Tuesday to avoid clashes between her supporters and opponents.
She is expected to win the biggest share of votes on April 10 but not the simple majority needed to win outright.
A similar demonstration was held by Peruvians living in the Argentinean capital, Buenos Aires.
In recent weeks, human rights groups have held a string of protests against Keiko Fujimori, warning that as president she would revive her father's authoritarian rule.
Polls show the 40-year-old candidate, who narrowly lost her first presidential bid in 2011, currently has one-third of the votes.
Opponents are demanding she be disqualified on allegations of vote-buying after Julio Guzman, one of Fujimori's rivals, was removed from the presidential race by the electoral tribunal for corruption.
He was accused of giving cash to the poor during his campaign. Guzman has dismissed the decision as being meant to tarnish his image.