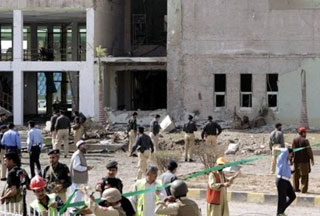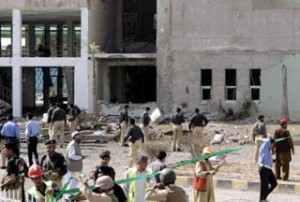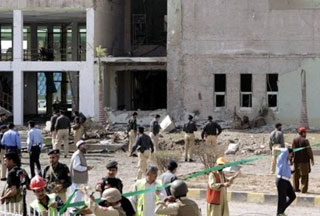 A powerful blast has ripped through a crowded market in Pakistan's northwest city of Peshawar, killing at least 80 people amid fears of rising death toll.
Dozens of people have also been injured as heavy smoke went into the sky in the area where the explosion happened.
The heavy blast came just hours after US Secretary of State Hillary Clinton arrived in Pakistan's capital Islamabad for talks over political and military issues.
"Eighty people have been killed and 200 wounded in this blast," North West Frontier Province information minister Mian Iftikhar Hussain told reporters at the bomb site after visiting the main local hospital.
The death toll is expected to rise as some of the injured were apparently in critical condition.
"The death toll is more than 80. Most of them are women and children," said Doctor Sahib Gul, head of the casualty department at Lady Reading Hospital.
The bombing came as Peshawar has been on high alert since Tuesday as the local government has erected additional pickets on all the entrances and exits of the city, in milieu of country's deteriorating peace situation.
The police have called upon the citizens to fully cooperate with law enforcement agencies.