Asia-Pacific
Pakistan
Peshawar's deadly day: Huge blast hits Pakistani religious school
At least seven people have been killed and over 80 wounded, including children, after an explosion targeted a Holy Qur'an study class at a religious school in Pakistan's northwestern city of Peshawar, officials say.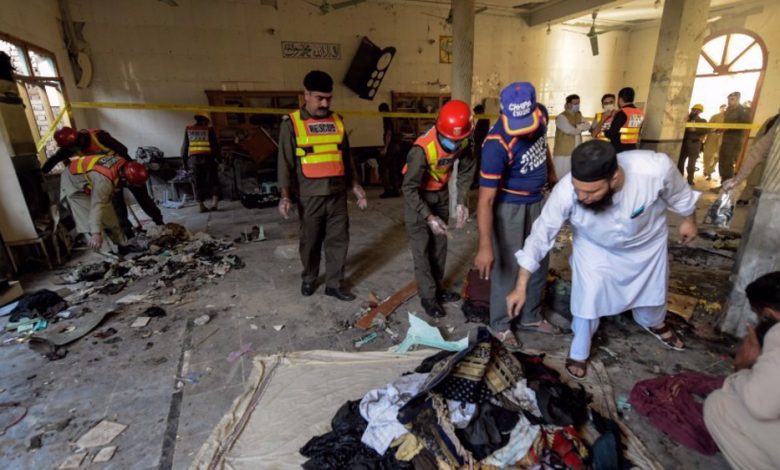 Police officer Waqar Azim told AFP that the blast took place at the Jamia Zubairia madrassa on Tuesday, when "someone took a bag inside the seminary."
The person who had brought in the bag left the lecture hall before the explosion, he added.
Peshawar Police Chief Muhammad Ali Khan confirmed seven people were dead and scores more wounded in the explosion.
"This happened at 8:30 a.m. [local time (03:30 GMT)], children were reading the Qur'an here," he said. "The initial investigation shows … that 5-6 kilograms of explosive material was used … that a bag of explosives was left here."
Mohammad Ali Gandapur, another senior police official, said two teachers were among the wounded.
Provincial health minister Taimur Khan Jhagra said those injured were being treated at the Lady Reading Hospital.
"There have been 72 patients brought to LRH, and there have been seven unfortunate deaths," Jhagra told reporters at the hospital. "Our sole focus right now is for the injured patients to be given the best possible care and so that they have the best chance to recover."
No group has yet claimed responsibility for the attack. But the Pakistan Taliban have formerly staged assaults in the area.
Peshawar is the provincial capital of Pakistan's Khyber Pakhtunkhwa Province bordering Afghanistan.
The province has been the scene of attacks by pro-Taliban militants in recent years.
Pakistan has been battling the scourge of militancy for years. Even through there has been a relative decline in deadly attacks in the country, extremist groups launch sporadic attacks that target both security forces and civilians.
Since 2014, the army has been targeting militant hideouts especially in northern and northwestern regions that are a hotbed of radicalism.