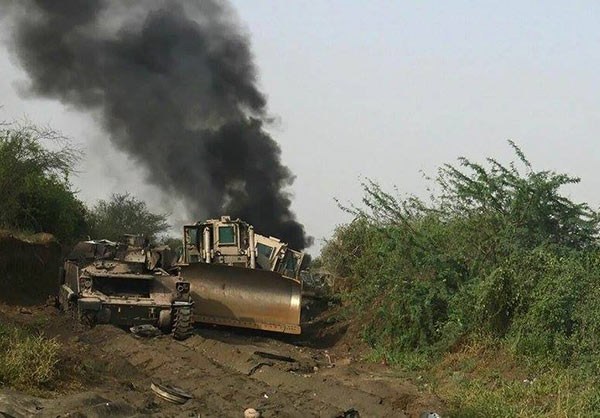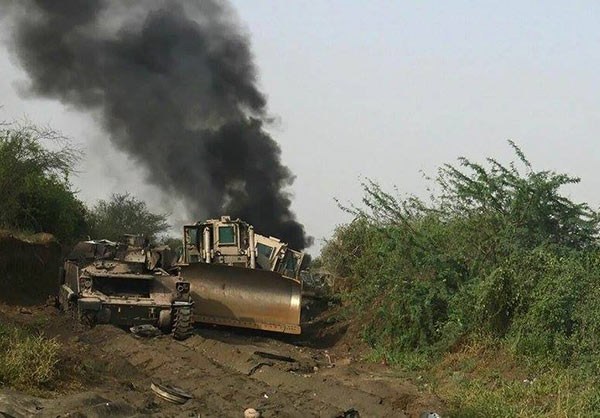 Yemeni armed forces, backed by members of Popular Committees, have launched an attack against a Saudi military convoy in the kingdom's southwestern province of Jizan.
According to reports on Sunday, the Yemeni forces targeted the Saudi soldiers who had been deployed in the region to recapture the military bases already seized by the Yemeni army.
Scores of vehicles belonging to the Saudi military were destroyed in the attack, the reports added.
Earlier in the day, the Yemeni army detected and targeted a Saudi convoy of arms and ammunition in al-Khobe region of Jizan, inflicting heavy losses on the Saudi military. A Saudi ammunition dump was also destroyed in the province, according to reports.
Yemeni forces further launched retaliatory missile and rocket attacks against several Saudi military bases near the Yemeni border. Saudi Arabia's Interior Ministry announced that a Saudi soldier was killed in an overnight attack near the country's border with Yemen.
Earlier in the day, the Saudi military pounded the northwestern Yemeni province of Sa'ada with over 50 airstrikes. There is still no word on the possible casualties of the attacks.
Also on Saturday, the Yemeni forces managed to shoot down an Apache military helicopter belonging to the United Arab Emirates in Lawdar district between the Yemeni provinces of Bayda and Abyan.
This is the second Apache chopper to be downed by the Yemeni forces over the past two days. On Friday, the Yemenis targeted a Saudi helicopter with a surface-to-air missile in al-Khobah district of Jizan.
Local media also reported heavy clashes between the Yemeni forces and al-Qaeda terrorists elsewhere on the battlefield in the southern province of Aden.
Saudi fighter jets also struck a hospital in the southwestern province of Ta'izz, setting the surgical ward on fire.
Meanwhile, reports said that the death toll from Riyadh's Friday airborne assaults on Ta'izz has increased to 63.
Saudi Arabia launched its military aggression against Yemen on March 26 – without a UN mandate – in a bid to undermine Yemen's Houthi Ansarullah movement and restore power to the country's fugitive former president, Abd Rabbuh Mansour Hadi, a staunch ally of Riyadh.
Over 4,300 people have been killed in the Yemeni conflict, the World Health Organization said on August 11. Local Yemeni sources, however, say the fatality figure is much higher.