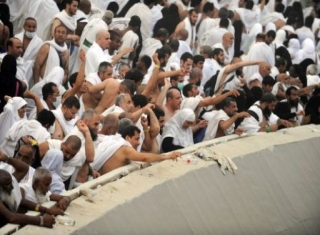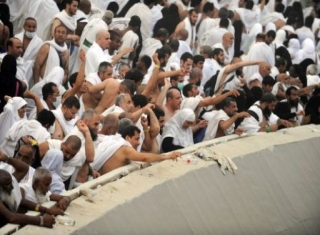 Hundreds of thousands of pilgrims proceeded Hajj rituals as they stone the devil in the second day of Eid al-Adha (Feast of the Sacrifice).
Pilgrims from all over the world, grouped by nationality on Saturday, stoned the devil in Saudi Arabia's Mina valley, as the Hajj reached its final stages.
Security forces were heavily deployed in the stoning area and first aid teams remained on high alert around the three adjacent pillars representing Satan.
The stoning ritual, which takes place in the kingdom's usually-deserted Mina valley and comes to life only during the annual hajj pilgrimage, began on Friday with the Muslim Eid al-Adha holiday as the faithful began by stoning the largest pillar, Jamrat al-Aqaba.
The Hajj pilgrimage officially started on Wednesday when around three million pilgrims launched their journey to Mina.
Hajj is considered as one of the five pillars of Islam and the largest act of mass pilgrimage in the world.
The holy pilgrimage is also a demonstration of Muslims' unity and their submission to Allah.