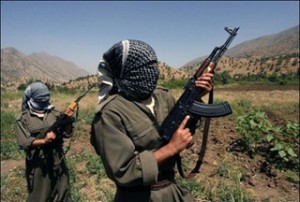 Iran's Revolutionary Guards Corp (IRGC) has killed 26 Kurdish rebels in a massive crackdown against the terrorist group in the northwestern parts of the country.
"In an operation to clean up Kurdistan and West Azerbaijan Provinces of anti-revolutionary and terrorist groups, 26 of the elements of these groups were killed," said Mohammad Pakpour, commander of the IRGC ground forces.
Pakpour said the operation delivered a 'massive blow' to PJAK (the Party of Free Life of Kurdistan) and other terrorist groups in northwestern Iran.
He did not reveal the time of the operation, but said no IRGC members had been killed.
PJAK, an offshoot of the Kurdistan Workers' Party (PKK) which is listed as a terrorist group by much of the international community, carries out terrorist attacks against Iran, mainly in the country's western and northwestern border areas.