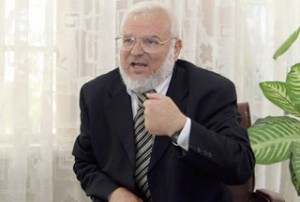 Dr. Aziz Dweik, the speaker of the Palestinian legislative council (PLC), stated Sunday that the council is still assuming its parliamentary responsibilities in accordance with the constitutional entitlement stated in the basic law.
Dr. Dweik told a news conference held in Ramallah that article 47 of the Palestinian basic law stipulates that the mandate of the PLC ends when new elected members swear in.
The speaker renewed his adherence to the democratic option that is based on respect for the rule of law, separation of powers, peaceful transfer of authority, political pluralism and the right of everyone to take part in political life and decision-making.
The speaker also stressed the need for ending the inter-Palestinian division permanently and forming a national unity government according to the due constitutional process.
He added that this unity government should take all measures needed to create a democratic environment for fair presidential and legislative elections according to clear timelines.
The speaker called for holding a session for the PLC in both Gaza and the West Bank to discuss the issue of the national reconciliation and the Israeli violations in occupied Jerusalem.