Syria
PM: Syrian economic decision is independent, based on interests of Syrian people Jan 20, 2014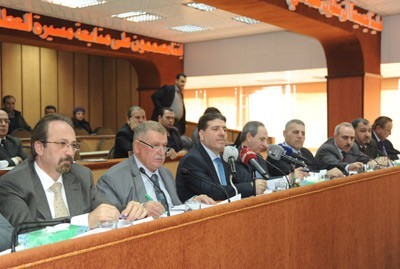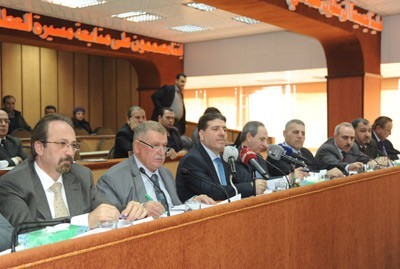 the General Federation of Trade Unions council continued its 17th session in presence of Prime Minister, Dr Wael al-Halqi, and a number of ministers.
Members of the council stressed the necessity of providing production requirements and increasing the percentage of implementing production plans of the public sector establishments.
They called for establishing a ministry tasked with youth affairs and inspecting the delivery of humanitarian aid to the people who are really indeed.
The Prime Minister stressed that the Syrian economic decision is independent and is based on the interests of the Syrian people and that the plans of the government to boost the capacities of the national economy are based on the nature of the national economy.
He added that holding such meetings during the current crisis is best evidence on the vitality and determination of the Syrian people to continue work and develop the capacities of the homeland.
Al-Halqi pointed out that the armed terrorist groups have carried out systematic sabotage acts against the infrastructure and establishments to curb all aspects of life.
He noted that the government is working to provide the requirements of the Syrian people according to the priorities of the national economy, and the general budget of the state for the year 2014 was approved with an amount of SYP 1390 billion for adaptation and fast accomplishment.
The Prime Minister said that Syria has wheat storage enough for 2 years and storage of foodstuffs enough for several months.
He reiterated that the Syrian government is going to participate in Geneva 2 conference shouldering the aspirations of the Syrian people in combating global terrorism.
Deputy Foreign Minister for Services Affairs, Minister of Local Administration, Omar Ghallawanji, pointed out that the government is currently working to develop a technical, financial and administrative structure for the reconstruction process in Syria.
Minister of Industry, Kamal Eddin Touma, stressed that the unsuitable geographical distribution of the interrelated companies and blocking roads by the armed terrorist groups and the difficulty of providing raw materials are the main causes for decreasing the productivity of many companies and making 48 companies to go out of production.
Minister of Health, Saad al-Nayef, pointed out to the efforts exerted by the ministry to follow up the situation of the people who were displaced from Adra city. He added that the ministry is playing its role in providing all sorts of medicines.