Syria
PM: The government is facing Syria's enemies attempts to target its food security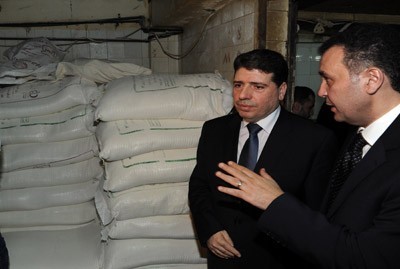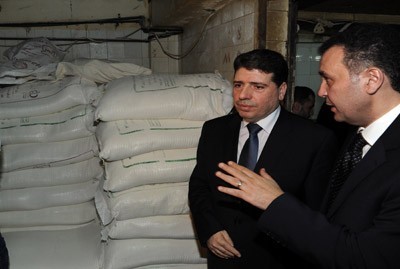 Prime Minister Wael al-Halqi said Syria's enemies are seeking to target its food security, stressing however that the government is working to face these attempts through directly providing the citizens with all the main food materials as well as the basic industrial, production and service requirements.
The Premier's remarks came during a tour to inspect work at the Services Directorate in Kafrsouseh area and the Temporary Bakeries Committee and Firefighting Center in Mazzeh area in Damascus.
20130808-132526.jpgAl-Halqi highlighted in statements to the reporters the importance of protecting public facilities as being a part of protecting the homeland.
He stressed that the worker's role in providing services and protecting their facilities is equal to the soldier's role in defending the homeland as both are providing the necessary support for the country's steadfastness.
The Premier affirmed that the strategic stockpiles of the various materials, particularly wheat and flour, are available and promising, stressing that the service and economic sector in Syria is stable.
He also assured that the great potentials of the national economy are diverse and able to meet all the needs.
Premier al-Halqi presented gifts to the firefighters, cleaners and bakery workers in appreciation of their great efforts around the clock to provide services to the citizens.
Al-Halqi was accompanied during his tour by Deputy Prime Minister for Service Affairs Omar Ghalawanji, Governor of Damascus Bishr al-Sabban and Governor of Damascus Countryside Hussein Makhlouf.