Europe
Police, anti-austerity protesters clash across Italy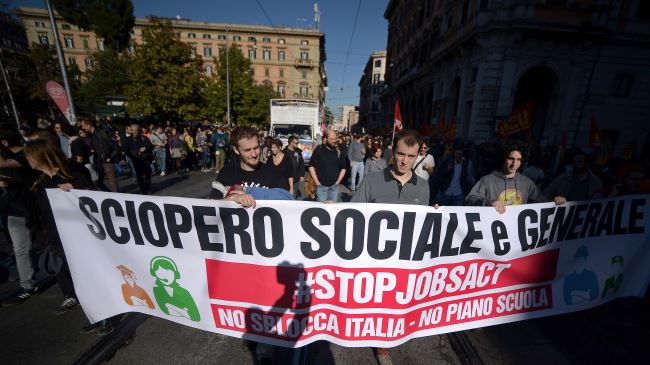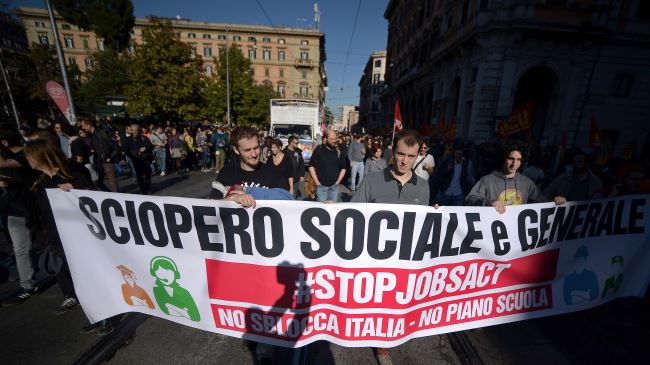 Several Italian cities, including the capital city of Rome and northern city of Milan, have witnessed confrontations between police forces and anti-austerity protesters.
On Friday, trade unions, students, and migrants staged strikes and rallies in more than 20 cities against labor market and other reforms.
Officers were pelted with eggs and red paint in Rome. Protesters also hurled eggs at the Finance Ministry and scaled the Colosseum.
In Milan, protesters targeted the police with flares, who then responded by baton charges.
Elsewhere, thousands of public and private sector workers took part in peaceful demonstrations against government reforms.
Prime Minister Matteo Renzi wants to make it easier for firms to hire and fire workers but has also pledged more generous unemployment benefits. His government has also proposed education reforms, which according to critics are too business-oriented.
He has vowed to push ahead with labor reforms, saying, "I want the law to be in force from January 1."
Also on Friday, the Italian National Statistical Institute (Istat) announced that the country's economy was still beset with recession in the third quarter of 2014.
According to reports, Italy's gross domestic product (GDP) dropped by 0.1 percent during the July-September period. The country's GDP shrank by 0.2 percent in the second quarter of 2014 while it was flat in the first quarter of the year.