Latin America
Police, anti-education reform demonstrators clash in Brazil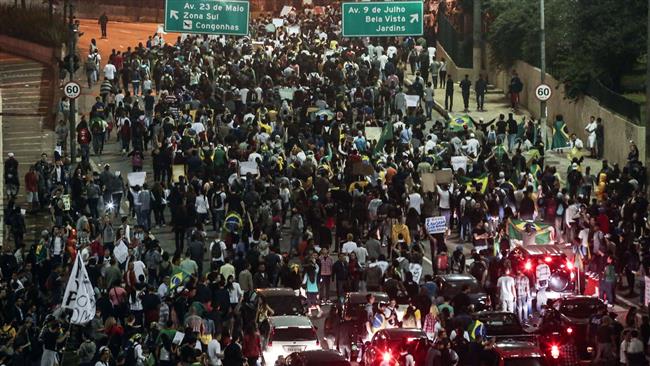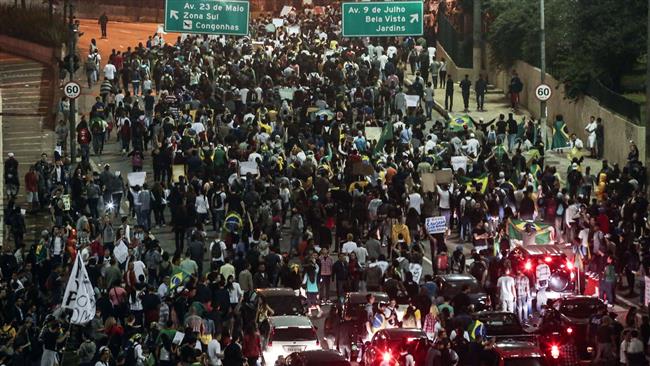 Clashes have broken out between Brazilian police and several hundreds of young people protesting against the Brasilia government's proposed education reforms in the city of Sao Paulo.
On Friday, police fired tear gas and stun grenades to disperse the protesters, mostly students and teachers who had taken to the streets of Sao Paulo in southern Brazil to express their opposition to the plans.
Under the proposals put forward by Geraldo Alckmin, the governor of the state of Sao Paulo, 94 public schools will be closed and over 300,000 students will be relocated in a bid to save money, while vacated educational institutions will be used for other purposes or sold off.
Academics, however, argue that the plans, which are aimed at reorganizing the educational system in Brazil's most populous state with over 44 million inhabitants, will only worsen the problem of overcrowding in public schools.
Shortly after Friday's violent confrontation, judicial authorities suspended the restructuring plans until next year, drawing jubilant scenes in the streets of Sao Paulo.
Camila Lanes, the leader of the Brazilian Union Secondary Students, said in a statement that the suspension order was a victory, warning, however, that it should be taken with "caution."
"Postponement does not mean suspension or cancellation. We will continue the struggle, organizing the movement until the restructuring fall of truth. We will occupy and resist, and only stop when we step back," the statement read.
Since the beginning of November, when the measures were introduced, Brazilian students have been holding sit-ins and demonstrations at schools, with some of them turning violent.