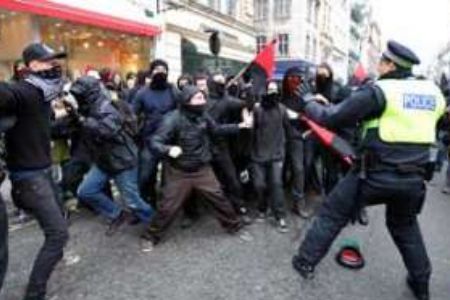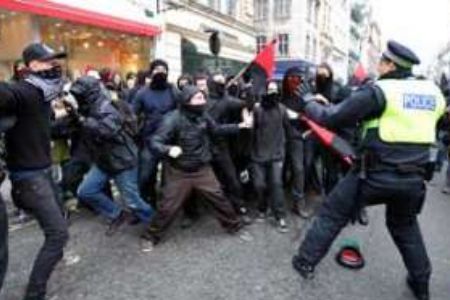 A group of over 300 protesters has attacked an HSBC bank at Cambridge Circus, breaking windows and throwing paints at officers, amid the continuation of the protest against government's spending cuts.
Anti-capitalist protesters attacked the bank and painted the mottos "thieves" on the bank's windows.
According to an eye-witness Reece Hughes, 41, a band of around 300 demonstrators attacked the bank at about 14.15 GMT. "They came down the road and started smashing the place in. The branch was immediately shut but some managed to break in."
Riot police soon arrived and escaped the protesters down Shaftesbury Avenue, surrounding the bank in minutes. Two police helicopters followed the running demonstrators and a protester was captured and questioned inside the bank.
It is also reported that the police has been fighting with a group of over 200 anarchists, wearing black and covering their faces and holding black and red flags and pro-anarchy banners.
The group of protesters attempting to occupy the shops scuffled with police were reportedly tried on breaking into branches of Topshop, Dorothy Perkins and McDonalds.
According to the police, the protesters threw "light bulbs filled with ammonia and paint bombs in Oxford Street."
Over 400,000 teachers, council staff, nurses, students, National Health Service (NHS) officials and many others who are angry at the public cut plans, mounting rates of unemployment, tax rises, pay cuts and pension reforms are partaking in the demonstration.