Europe
Police clash with leftists in Germany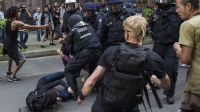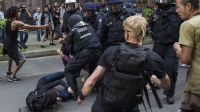 Clashes have erupted between German police and leftist protesters who were trying to prevent far-right extremists from holding a demonstration in the capital Berlin.
According to DPA quoting police sources, more than 2,000 anti-Nazi protesters staged a large counter-protest in Berlin's Kreuzberg on Saturday and tried to stop a small march by supporters of the far-right National Democratic Party (NPD) in the city's western neighborhood.
The far-right demonstrators could only advance a couple of hundred meters before their path was blocked by the counter-protest, which was participated by left-wingers, trade unions and ordinary citizens.
However, the counter-rally turned violent when clashes broke out between the leftist protesters and police in the area. The left-wing demonstrators reportedly threw stones and bottles at the security guards, injuring several of them.
Thomas Neuendorf, Berlin police spokesman, said "numerous policemen were injured and arrests were made" during the violent protest.