Europe
Police fire tear gas at anti-austerity protesters in Greece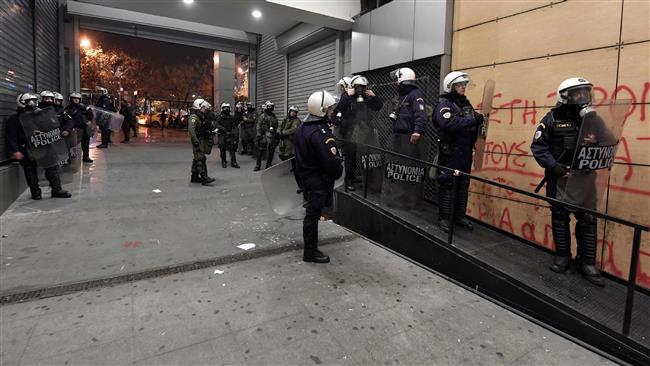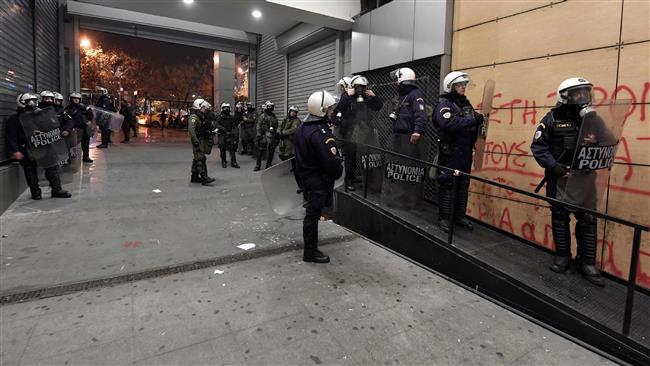 Greek police have clashed with protesters outside parliament in the capital city Athens, as strikes and rallies continue over new government cuts.
Police fired tear gas in brief clashes with protesters and strikes halted ferries and disrupted public transport on Friday.
No arrests or injuries were reported.
The protests are against a proposed bill awaiting a vote in parliament, aimed at cutting public spending and limiting civil rights of labor and unions.
The austerity bill, which is to be voted on late Monday, will limit the right to strike and speed up property foreclosures.
The Greek government has described the new measures as minor reforms.
"This does not affect (umbrella) unions and it does not change the process followed to called strikes," said government spokesman Dimitris Tzanakopoulos
The measures, which were dictated by the international lenders as conditions to receive a final bailout, are considered to be potentially the last major package of cuts before Greece heads toward the end of the bailout program in August.
Giorgos Perros, a senior member of the Greek Communist Party and a lead organizer of Friday's rally, vowed that protests would intensify ahead of the Monday vote.
"Let them vote for whatever they like. We won't stop," he said.
The protests scheduled for Monday include a three-hour work stoppage by air traffic controllers, set to halt flights between 12 pm and 3 pm local time (1000-1300 GMT). Public transport and public hospital workers are also scheduled to join the protests.
If the bill is approved, Athens would receive about five billion euros in loans.
The government plans to pump the new money into the country's economy, giving it a boost to return to full market financing by August after it crashed eight years ago in 2010.
Critics, however, are weary of the spending cuts, claiming that Prime Minister Alexis Tsipras failed to deliver on his election promise of putting an end to austerity measures.