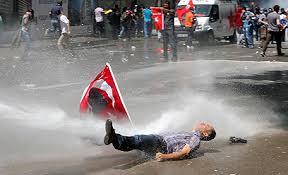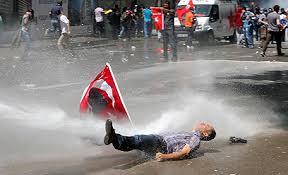 Nearly a thousand people demonstrated outside a courthouse in the Turkish city of Kayseri, where eight men including four police officers stood trial over allegations of beating a protester to death during 2013 demonstrations, according to Press TV on Monday.
Ali Ismail Korkmaz was killed after being beaten with baseball bats and truncheons during a protest in the city of Eskisehir on June 2, 2013. The assault was recorded by security cameras and the young student succumbed to his injuries after nearly 40 days in a coma.
The eight defendants are accused of premeditated murder and will face up to life in prison if found guilty.
The court ordered that five of the suspects, including one policeman, would remain under arrest pending trial.
On May 31, 2013, Turkish police broke up a sit-in held at Taksim Square of Istanbul against a proposal to demolish the city's Gezi Park.
The violence turned into nationwide demonstrations against the ruling Justice and Development Party and Prime Minister Recep Tayyip Erdogan, with police using water cannons, tear gas and rubber bullets against the demonstrators.
The protests saw an estimated 2.5 million people take to the streets across Turkey over three weeks to demand resignation of Erdogan. More than 8,000 people were reportedly injured in the demonstrations, while nearly 10 people died.