World News
Police in Panama arrest 50 workers during land law protests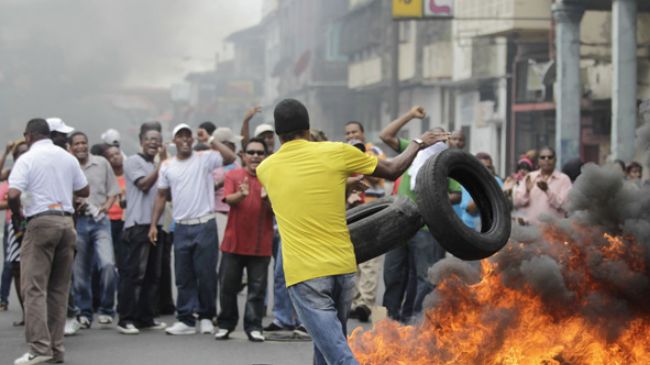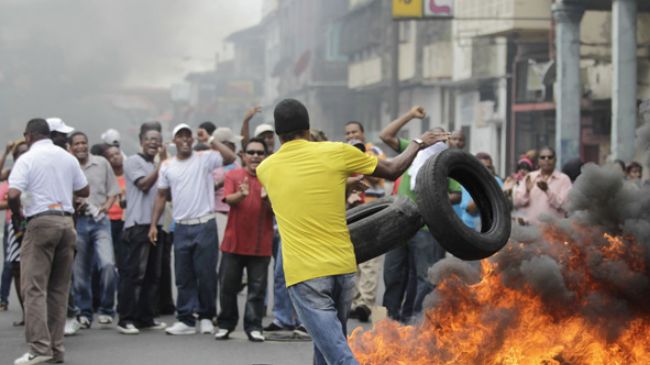 Police in Panama's Colon have clashed with workers protesting against the government's decision to privatize state-owned lands, arresting nearly 50 of them.
On Monday, angry demonstrators took to the streets in the sea port of Colon, which lies near the Caribbean Sea entrance to the Panama Canal, where they called on the government to annul the decision.
The new legislation which was approved by the National Assembly will allow private entities to buy lands in Panama's duty-free zone.
Demonstrators threw stones and sticks at police officers. In response, police fired tear gas, rubber bullets, and used batons to disperse the protesters.
On Friday, at least one person was killed and many others injured after protesters blocked the main road in the port city and set tires ablaze.
According to reports, a 9-year-old boy was killed and several people including local residents and police cops were also wounded during the protest.
"We do not want the land to be sold because these are assets that belong to Colon," said the head of the Colonense Broad Movement, Felipe Cabezas, during the Friday rally.
"Why sell if the country is not going through economic problems?" he added.
Demonstrators say the law will destroy the local economy and transfer profits to large corporations.
Reports say that more than 2,000 companies operate in the Colon free trade zone.
Panama is the main passageway connecting the Atlantic and Pacific oceans and one of the largest free trade ports in the world.