Europe
Police, protesters clash in Bosnia over economy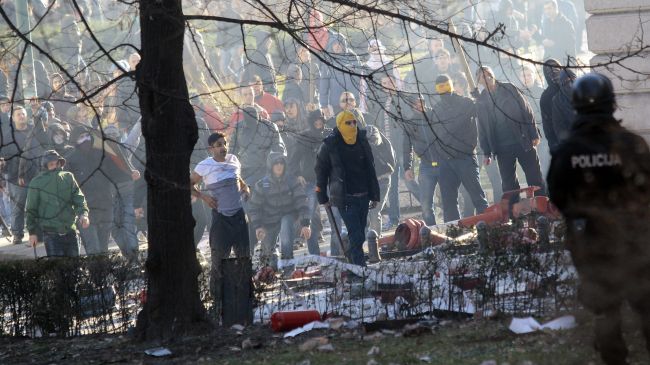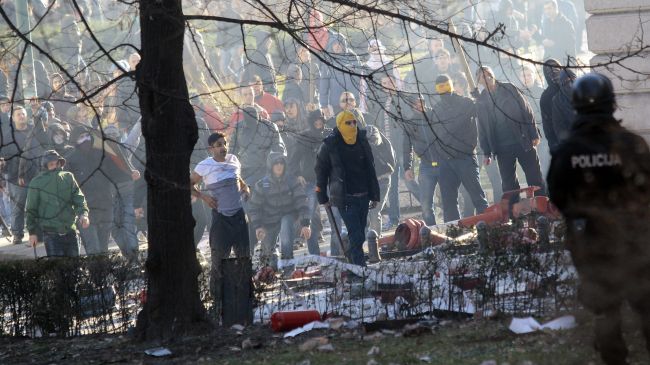 Police and demonstrators have clashed for a third consecutive day in cities across Bosnia and Herzegovina, a report says.
Anti-government demonstrators smashed windows and threw a flare into a section of the presidency building in the Bosnian capital, Sarajevo, after setting fire to another government building in the city of Tuzla on Friday, Reuters reported.
Protesters also hurled stones at a local government building in Zenitsa, the country's fourth largest city, police said.
This happened despite special police efforts to disperse the violent crowd with water cannon and tear gas.
Officials said dozens of people have been wounded during the clashes.
The latest incident follows two days of protests against economic and political stagnation in the Balkan country.
On Thursday, clashes between police and demonstrators in the northern Bosnian town of Tuzla left over 130 people injured, most of them were police officers.
Protests erupted in the Balkan country by unpaid workers of four privatized companies in the northeastern city of Tuzla on Wednesday.
The demonstrations gained momentum and spread as people expressed anger over high unemployment and rampant corruption.
Analysts believe that the protests point to deepening social unease over the state of the Bosnian economy and the political inertia in the country almost two decades since the end of its 1992-95 war.