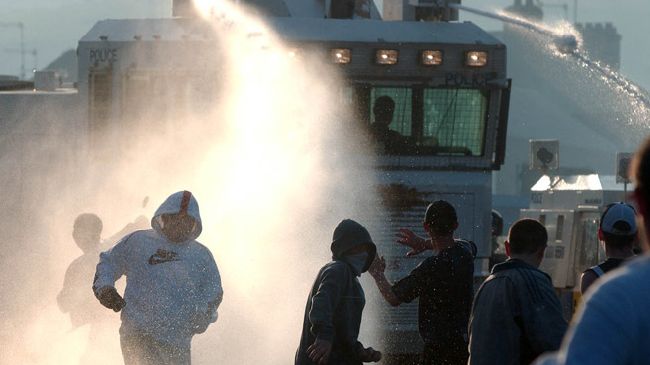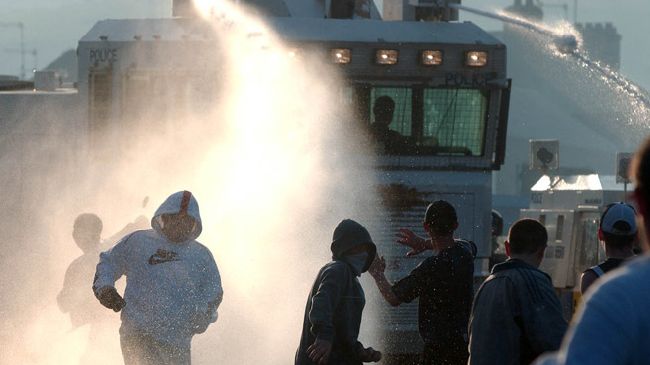 British police chiefs are calling on Home Secretary Theresa May to sanction the use of water cannons in England and Wales amid ongoing protests against the coalition government's austerity measures.
According to a report prepared for the Association of Chief Police Officers (Acpo) and College of Policing, the use of harsh tactics to crush any possible unrest in the future which could be triggered by "ongoing and potential future austerity measures" would be necessary to fill an "operational gap" that exists within the Metropolitan Police.
Although the Police Service of Northern Ireland has been using water cannons for some time, they have never been deployed by forces on the UK mainland.
Now, chief constables are set to request authorization to deploy water cannons in mainland Britain for the first time later in 2014.
"It is anticipated that the Home Secretary will be approached in early 2014 in respect of water cannon authorization," the report said.
It cited several scenarios for which the controversial equipment could be deployed, including the 2011 violence and street clashes sparked by the shooting of Mark Duggan, the 2004 Countryside Alliance protest in central London, the 2010 student protests and demonstrations outside the Israeli embassy in London in 2008.
On January 6, London Mayor Boris Johnson wrote a letter to May noting that the 2011 unrest prompted him to consider the use of water cannons.
"Following the disorder in August 2011, both the Metropolitan police service and Her Majesty's Inspectorate of Constabulary stated that there are some circumstances where water cannon may be of use in future," he wrote.
Johnson's reasoning was slammed at the time with critics warning that the deployment of water cannons would stifle the public's democratic right to protest and it would also be another sign of attempts toward the militarization of the police forces.
While the Acpo/College of Policing paper, written by West Mercia chief David Shaw, said it is designed "not to justify why the Police Service believes that water cannon should be available," it did explain when May is likely to be approached for permission.
A new water cannon costs between £600,000 and £1 million depending on its specification and can be deployed for 25 to 30 years.
However, critics believe the machines could inflict serious injuries, such as those reportedly experienced by a German protester, who was blinded in 2010.