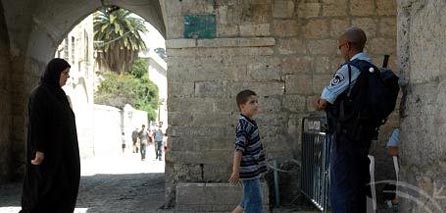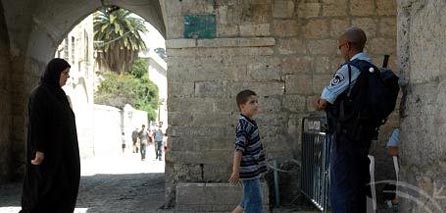 Israeli settlers took over a building in the Old City of Jerusalem early Thursday morning, accompanied by police who forcibly evicted families from three of the buildings apartments.
The home, two stories with 11 small family apartments, was owned by the families of Suleiman Handal and Kamal Karsh and located in the As-Sa'dieh neighborhood of the Old City near the Al-Aqsa Mosque.
Three of the apartments housed families, totaling some 50 residents. It was not immediately clear how many were taken forcibly our out of the home. In Addition, many of the women and children from the families refused to be evicted and remain in their homes with barricaded doors.
Sources said, settlers now occupy five homes in the vicinity of the Al-Aqsa Mosque.
Palestinian official said he feared the building would be taken over as a settler Yeshiva, explaining that the building was a school before 1967, after which it was converted into apartments.
Israeli occupation practicing ethnic cleansing in occupied city of Jerusalem, confiscating homes ,waging devastation attacks cause of destruction of many Palestinian homes and finally Israel deports Palestinians outside the occupied city what is condemned by huge mass, international law and human rights organisations.